After almost three months of sailing from Nakhodka, the Academician Chersky reached the project logistics terminal
Ship "Academician Chersky"

(Photo: Mikhail Golenkov / RIA Novosti)

The Akademik Chersky vessel, owned by Gazprom's daughter company Gazprom Fleet, anchored in the German port of Sassnitz. This is evidenced by the MarineTraffic portal. According to him, the route from the port of Nakhodka to the German coast of the Baltic Sea was 2 months 29 days.
Near Sassnitz is Mukran, which houses the logistics terminal of the Nord Stream-2 pipeline construction project. It is there that the pipes needed to complete the construction are stored.
Academician Chersky may complete the construction of the Nord Stream-2 pipeline, said Energy Minister Alexander Novak at the end of 2019. In early February, the ship left Nakhodka and headed for Singapore. However, the pipe layer did not enter the port and headed for Colombo. Then the ship repeatedly changed course.
Polish Foreign Minister calls Nord Stream 2 a threat to Europe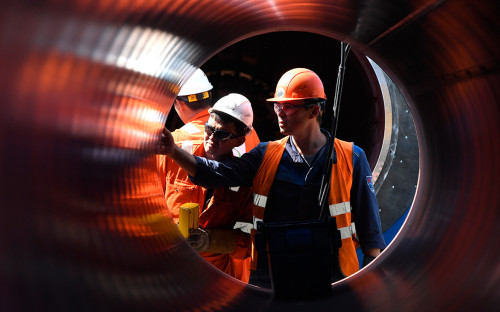 According to Novak, to complete the construction of Nord Stream-2, which runs along the bottom of the Baltic Sea to Germany, it remains to lay less than 160 km out of 1.23 thousand km. Initially, it was supposed that this could be done before the end of 2019, but the work was frozen due to the threat of American sanctions against construction contractors – the Swiss Allseas, which was the main contractor, diverted its ships from the German coast.
.