Boca Juniors, Corinthians from Brazil, in England West Ham, Manchester United with Cristiano Ronaldo and Manchester City; Juventus, Boca again, Shanghai Shenhua from China and back to Boca. In total, 25 titles. In between, two World Cups and four America Cups with the Argentine National Team and Lionel Messi. That is what Carlos Tevez did in his career as a footballer, which places him as one of the most important in the history of the country and with his mere presence in places where he does not usually frequent, he revolutionizes them.
That was not the case in San Pedro on the weekend of October 10 and 11 because, until after La Opinion announced its stayVery few images were revealed and the neighbors who were with him and were photographed did not provide testimonies. In part, it was due to the fact that tourism is not allowed in the party and, knowing that he is a native of the Metropolitan Area of ​​Buenos Aires, he stole the controls carried out by the Municipality in the framework of the quarantine to prevent the spread of the coronavirus.
Sin Galera spoke with Adrián "Pingüino" Álvarez that the owner of Isla Bonita, which is where Tévez was, along with friends, including Pablo Migliore (former Boca goalkeeper, among other clubs) and Fernando Tobio (ex-Vélez y Boca who is currently in Toluca de México) and gave details of how he arrived and what he did that Saturday and Sunday.
"He contacted me through another friend of his who is building a cabin on the island. It is a friend of his from the Fuerte Apache neighborhood. He called him, asked him where he was and told him here on the 'Isla Bonita' and He said "well, now I'm going." His friend wanted to die when he told him that. We had nothing prepared. It occurred to him at the time. It was not something armed, he came for a walk and the family wanted to come. He was afraid that people would do so. harassment. I take people fishing continuously and a guy tells me 'now Carlitos is coming', 'what Carlitos?' He told him, 'Come on', 'Carlitos Tevez', he tells me. They came with everything, Carlos brought everything, with everything armed. They come and do not want anyone to find out, "said Álvarez, who in several images that were published in social networks it is next to Apache.
And he admitted: "I did not calculate that I was going to come to San Pedro one day. I was just coming with a friend and he came to spend the weekend on Saturday and Sunday, without the family. Photos of people that were taken on the island were leaked. To see what San Pedro was like, he was satisfied and agreed to return. He came with other players. Tevez came in his Audi, the others also in their cars. "
-Álvarez with Migliore, ex-archer from Boca.
In addition, "Pingüino" detailed what the captain of the Xeneize did on his island, from when he arrived until he left: "He arrived on Saturday at 6:00 p.m., stayed until night and went to Buenos Aires. Then he returned to Sunday morning. early, he lives in a country house in Pilar. He was fishing, but he doesn't know how to fish, he knows how to play soccer. We played the Creole trick, I don't like it very much. It was played face to face and those who were having a drink and lost they had to make a white background when they lost. They brought everything to be calm. "
Álvarez acknowledged that he is the most relevant character he received and, in his opinion, "he is one of the most important guys in the world" because there are (Diego) "Maradona, (Lionel) Messi" and, later "Tevez. "You take him as another person but you push yourself more. We are without security or anything, he was sleeping on the floor like anyone else. I have had important people but not like him. Besides, he is the best known. Others have come and now he stayed. Ramón 'Wanchope' Ábila to come, "he added.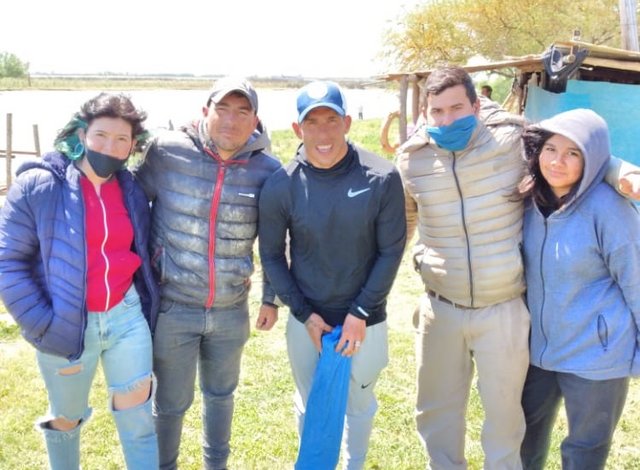 Finally, he pointed out that the least talked about was "soccer" because the players "are saturated" and, therefore, Tevez was in San Pedro to "eat barbecue and rest." And on his island, he stressed that "slowly" they are putting together a "tourist complex" that will soon be seen with greater progress. The important thing for "Pingüino" is that Tevez liked it and plans to return.