If the rumors are correct, Sebastian Vettel can sign a contract with Racing Point for 2021 at any time, in which case the four-time World Champion will be riding with a team that last won a race in 1999 in a different capacity (Jordan Grand Prix).
Now Racing Point is a team under construction that with a large lender and next year even factory team status (Aston Martin) is looking for the way to the top, so that role would fit the German well at first sight.
He did it before, helping a team under construction to succeed. On April 19, 2009 he took the first race win for Red Bull Racing during a soaking Chinese Grand Prix.
There is a big difference: Vettel was 21 at the time, now he is 33. Perhaps that is no longer the right age to start a large project. He also did that once before, by going to Ferrari in 2015. We know what that has yielded: fourteen beautiful victories, but above all a lot of disappointment.
Red Bull return would suit both sides
Although Red Bull team boss Christian Horner recently slammed the door on the outside world, a return from Vettel is an option that both the German and Horner (and Helmut Marko) have to rethink. It would be convenient for both parties.
For Red Bull, history starts to repeat itself. Alexander Albon, like Pierre Gasly, struggles to keep up with Max Verstappen, leaving him alone in his already senseless battle with Mercedes. After Albon did not reach Q3 in Hungary, the British Thai crashed at Silverstone last Friday.
A day later he did not reach Q3 again. Surely there were all kinds of mitigating circumstances for that, but still. The past two races went reasonably well, but you can't qualify better than that if the team mate drives to the podium with the same material.
Albon is indeed not very experienced, but at the same time he is 24, so two years older than Verstappen and three years older than Vettel, when he took his first victory in 2008 (in a Toro Rosso). Albon has not yet shown such manifestations of extraordinary talent.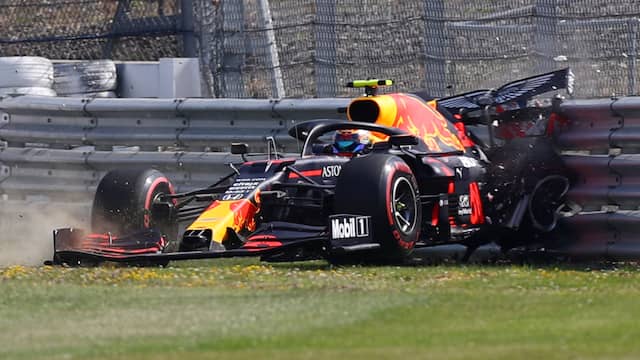 Alexander Albon's crash during the second free practice session for the British Grand Prix at Silverstone (Photo: Pro Shots)
What else does Vettel Red Bull have to offer?
After leaving Ferrari, Vettel would like to continue his career, but with a car with which he can win. There is no place at Mercedes, so there is Red Bull the next best thing.
In addition, many people from his peak years (2010-2013) still walk around there, so he can attract the team like an old sports shoe that has been in the closet for a few years. Although that shoe has now been expressly formed around Verstappen.
What else does Vettel Red Bull have to offer? A wealth of experience that will undoubtedly take the team further than what Albon is now putting on weight.
The car needs to be made better at a rapid pace, then you have more of a driver who has been successful in the sport for a decade and a half than an inexperienced and apparently insecure driver who got another race engineer as the ultimate emergency to get things going. .
Also in the races, Vettel is much more valuable than Albon with its strategic insight and pure proven speed. Verstappen may have a competitor, but is tactically no longer alone in those races in which they can compete with Lewis Hamilton and Valtteri Bottas. Mercedes is now regularly made very easy with two assets in hand versus one.
Then we are not even talking about the input that Vettel can give when developing the car for 2022, which must be designed according to radically different rules. For Vettel, it would be a great way to end an impressive career in a dignified way, with a realistic chance of success and rehabilitation after his failed Ferrari adventure.
Racing Point is mainly about Lance Stroll
Because Racing Point is doing well now and it sounds great to build that team. But it says something about the development qualities of a racing stable if only another car has to be copied in order to be fast. Nice race with that car from 2022.
And in a team that is primarily run by Lawrence Stroll to make his son Lance's career successful. Perhaps not the right cart for you as a four-time champion to pretend. Then rather former love Red Bull and a chance to relive old times.
Then the Formula 1 fans will get the undoubtedly spectacular battle between Vettel and Verstappen for free.
The Grand Prix of Great Britain starts on Sunday at 3.10 p.m.
.