A few weeks after announcing his primary television OLED, Huawei has taken advantage of the presentation of the new Nova 7 to show a new TV model. Its about Huawei Vision 55i, a 55-inch 4K TV which comes to be placed in the manufacturer's entry range but maintains some of the characteristics that make Huawei televisions quite special models.
Probably the main feature of this TV is not its panel, since we have seen many televisions with better screens. Huawei's bet in this case focuses on software, differentiating itself from other brands with its front camera in the shape of a flattened periscope and the use of HarmonyOS, your own operating system put in place at a time when Trump's veto didn't seem to go away.
Huawei Vision V55i TV data sheet
Huawei Vision V55i

Panel

55 inch LCD

Refresh rate 60 Hz

Resolution

4K HDR

Brightness and color

400 nits

90% DCI-P3

Local Dimming

Processor

Honghu 818 (2 x Cortex A73 + 2 x CortexA53)

GPU Mali G51-MP4

Memory and storage

4 GB + 32/64 GB

Operating system

HarmonyOS 1.0

Sound

4 x 10 W (Huawei Sound)

4 x 2 W

Frontal camera

1080p30fps video

Remote control

Gestures, command with voice and touch control

Connectivity

WiFi, 3 x HDMI 2.0, USB 3.0, DTMB, RJ45

Dimensions and weight

1232 x 747 x 62 mm

20,5 kg
Huawei's own operating system grows with new televisions
The Huawei Vision V55i is a TV with a level just below its V55 or V65 series. In this case we do not have quantum dot technology. What we are offered is a 55-inch LCD panel with 4K resolution in 16: 9 format and with a 400 nit brightness level. To get an idea, we are talking about a direct competitor of models like the Xiaomi Mi TV 4S.
The TV design is quite stylish, with reduced edges of 6.9 mm and a screen ratio of 96.2%. In the upper part we find the front camera and in the lower part its sound system, with up to four 10W speakers that form a small sound bar.
Inside the TV we find the Honghu processor along with 4 GB of RAM. It is a proprietary chipset with built-in NPU and the TV has, like the brand's mobiles, with artificial intelligence to offer certain object and motion recognition functions.
The front camera allows you to record video in 1080 at 30fps. This is an add-on created mainly for the function of video calls. HarmonyOS has its own video application, as well as calendar and calls.
In addition to this, Huawei explains that the television is capable of detecting gestures, for example when raising the hand or crossing the arms we can activate certain functions. Other functions are Huawei Share, which allows the mobile screen to be shared on the TV in an equivalent way to how the Chromecast does and AI Kids, a tool with specific content for the little ones.
Huawei televisions also incorporate voice control, from the control itself and from the television through its intelligent voice assistant, which in the western market is called Celia.
Versions and price of the Huawei Vision V55i TV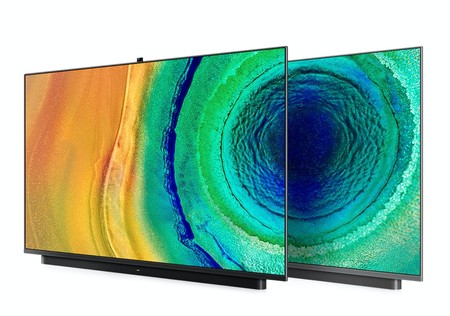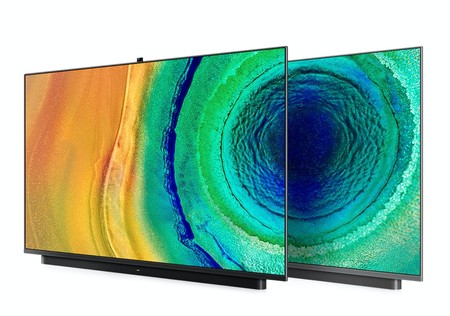 Huawei's new TV, the Vision V55i, will be available to buy in China from April 26. At the moment there are no announced plans for its arrival in other markets, but seeing the resources that the company is allocating to this new operating system, it would not be surprising that it ends up expanding outside the Asian country. The price of the Huawei Vision 55i for the 32GB version is 3,799 yuan, about 497 euros at direct exchange.
More information | Huawei