The small grocery stores that have taken on Australian buyers are making a long-awaited return to Coles next week, with the supermarket officially inaugurating the brand new collection of small and adorable plastic products of this year .
Described as a "phenomenon", "extremely popular" and "incredibly cute", Coles' first Little Shop saw tens of thousands of Aussies forming or joining online exchange networks, while thousands more attended exchange meetings throughout the country to complete their collections last year.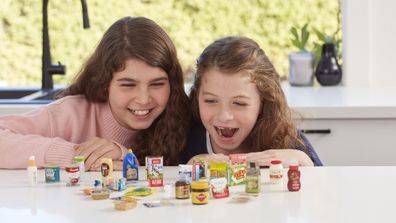 This year Little Shop 2 will celebrate some of Australia's most famous supermarket products with the new collection, including Arnott's original barbecue forms, Heinz beans, Tip Tip bread and Campbell tomato soup.
There will be 30 mini-replicas available for collecting customers – with one of the most popular items from last year that made a mini return. Vegemite has created a special mini vintage edition to celebrate the long history of popular distribution in Australian shopping lists.
With products like mini carts, baskets, display cases, aprons and shopping bags that run out within a few days of last year's launch, Coles introduces other products to help customers create Little Shop 2, including a brand new Coles replica truck and a nice toy money Register.
There will also be new cases of collectors available, making it even easier for customers to maintain and enjoy their minis in the future.
Lisa Ronson, Coles' Chief Marketing Officer, said Coles is happy to resume the most popular collecting campaign that the supermarket has ever had.
"The first campaign was embraced by customers of all ages and brought to life the traditional hobby of collecting that all generations enjoy," said Lisa.
"We have worked with our suppliers to make this year's campaign even bigger and better than before and we think customers will be thrilled to discover more surprises that we have in store for them."
The mother of two Kristy Davis said in a Coles press release that she is thrilled that Little Shop is returning to Coles and expects the new collection to be a hit with Australian families.
"Little Shop certainly makes the weekly shop more exciting and creates extra entertainment in our home. It has also helped teach Shylah and Giselle the value of spending and managing the family budget," said Kristy.
"There are very Australian things there this year with Vegemite and baked beans. I love attention to detail, especially on bread and biscuits; we already buy those cookies so they are definitely a hit in our family, there seem to be many favorites for the family. "
While everyone is naturally excited to welcome the cute little toys, there was obviously a certain reaction that the collectibles are all made of plastic – a material that many supermarkets across the country have tried to get rid of.
From Wednesday 17 July, customers will be offered a free collectible with every $ 30 spent at Coles supermarkets, Coles Online and for the first time customers will be able to collect Little Shop minis at Coles Express with fuel or shop purchases.