While waiting to open its headquarters -the Antonio Varas room- and welcome its public to avoid contagion of coronavirus, as part of the VI Forum of the Arts 2020 University of Chile, the TNCH inaugurates today "Delusions of captivity", digital scenic cycle which has as a reference, says its director Cristián Keim, what has been "witnessed, imagined or delirious in this strange period that we are living".
By Leopoldo Pulgar Ibarra
A title for seven works in small format, among more than three hundred who applied to an open competition, evaluated by Nona Fernández (dramaturga), Ana Harcha (academic-researcher U. de Chile), Astrid Quintana (academic-playwright U. de Valparaíso), Guillermo Ganga (designer) and Christian Keim.
Call and result that has a particularity: "Five jobs are from Antofagasta, Coquimbo, Valparaíso, Concepción and Punta Arenas and only two from the Metropolitan Region", highlights the director Cristián Keim.
New experiences
How do you perceive today's socio-cultural environment?
"There is no clear way out of the social or health crisis. The hope is in the vaccine that, they say, would come out in June 2021 … but we do not know what the social instability will lead to.
"The double crisis has altered our way of life and although the deadlines are getting a little clearer, in the public there will be distrust and fear to go to the theater.
"Nor do I see that there is real support for things to change: we live in a society in which, structurally, culture -as a public space- is abandoned."
There are numerous digital stage experiences …
"Yes, diverse formats have been experimented with that have emerged on unexplored terrain. We have all done what has been possible about what has been learned.
"They are experiences that cannot be compared with each other, each one is a super valuable experiment. We are obliged to develop a creativity that was not had or was in the background, always involved in the industrialization of procedures, cost-benefit … Today we have to reinvent ourselves from scratch ".
The digital medium also brings difficulties …
"Of course, a creative process in itself is unstable, imagine how the instability of the digital medium and the platform used influences it.
"There is no direct contact with the public and the interpreter does not have the reference of the scene companions … without counting the failures or unexpected accidents, the saturation of the servers or when the house from where it is transmitted is without power, as has happened .
"There are artistic and technological tools that are beginning to appear, but it is not easy to generate the confidence in creative teams to tackle these new platforms."
The contest crossed challenges and uncertainties …
"The TNCH is at the origin of Chilean theaters and university schools, which is still a reference. It is important to mark a path for us, much more generous.
"This contest was an opportunity to summon creative teams, to stop looking at the capital's navel with a TNCH that tries to be a reference in the collaborative work mode, where very different voices enter.
"We have works from Punta Arenas to Antofagasta, created by a younger generation that sees an opportunity for their creations in digital media.
"Beyond the artistic results, which we hope will be the best, they represent a way of working in the Chile that is being built.
"You cannot resort to what has always been done or to the same forms of work. Looking for new languages ​​that interpret today's world is fine, but we must do it with new practices, starting with labor relations ".
Selection criteria
Was there positive discrimination to ensure regional works?
"In the selection process, the jury operated with two criteria: choice of texts without indications of any kind. The artistic prevailed exclusively. The reference was those scenes that we have witnessed, intuited, imagined or delirious in this strange period that we continue to live.
"For the selection of creative nuclei, those younger people who were working in an interesting way in various parts of our territory and who had links with the digital medium were taken into account.
"The idea is to create a nationwide network of creators and for the TNCH to be a bridge between them to enhance the conversation between authors and directors."
The works in two words
"The Black Death", by Tomás Henríquez (Friday 16, 8:00 pm): "Great level of lucidity, raises a premonition and hope: always after a plague there is a rebirth".
"La cosa", by Soledad Figueroa (Friday 16, 8:00 pm): "It is one of the most delusional, it unravels a casual thought… that becomes reality".
"The shot that brought the blame", by Elisa Osorio (Saturday 17, 20.00 hours): "The instinct of guilt in the context of confinement, what was done or omitted … with accompanying ghosts."
"Marta L", by Nicolás Lange (Saturday 17, 8:00 pm): "The hallucination of heroines who stand up to the most powerful beings one could come across".
"Karen", by Pablo Barrientos (Friday 23, 8:00 pm): "That loneliness in a pandemic that makes one have doubts about whether one is there or not, whether one is in relation to another human being."
"Dinosaurs in my window", by Raúl Riquelme (Friday 23, 8:00 pm): "Childhood faced with the problem of death, children-dinosaurs and innocence".
"Comunidad", by Camila Le-Bert (Saturday 24, 8:00 pm): "A polyphony or mixture of voices like those in chat in which you participate voluntarily or obligatorily".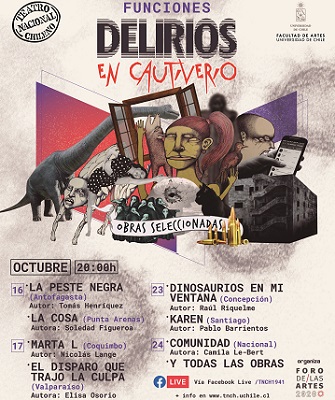 October 16 to 24, 8:00 p.m. Gratuitous. Check out the schedule here.
http://forodelasartes.uchile.cl/
.