The creators of Suikoden today announced Eiyuden Chronicle: Hundred Heroes, a new J-RPG that will soon be the subject of a Kickstarter campaign on July 27.
The Eiyuden Chronicle project benefits from a new development studio, Rabbit & Bear Studios, based in Tokyo, Japan. The veterans who occupy the premises, Yoshitaka Murayama, Junko Kawano, Osamu Komuta and Junichi Murakami, present the game as an ode to the classic JRPG genre of the PlayStation era.
In detail, the story is entrusted to Murayama, screenwriter of Suikoden I & II. Kawano (Suikoden, Suikoden IV, Arca Last) will take care of the chara-design. The design of the system is entrusted to Komuta (Suikoden zodiac, Suikoden Tactics, Arca Last), and artistic direction as well as production in Murakami (Castlevania : Aria of Sorrow, OZ). Finally, The game's soundtrack will include the work of composers Michiko Naruke (Wild Arms), et Motoi Sakuraba (Tales), among others.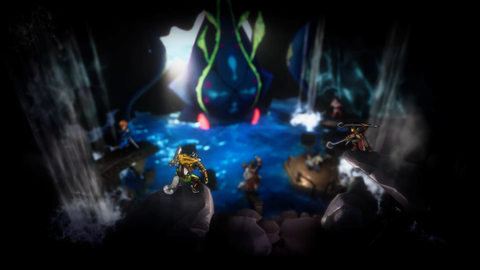 The game will feature high-resolution 2.5D graphics, a story set against a backdrop of war and friendship, a cast of 100 heroes who will join the protagonist, as well as a fortress building system to develop armies. A guild system will allow players to change the attributes of their fortress based on their membership. The battles will take place on a turn-based basis, with groups of up to 6 members; they will include clashes with bosses.
The Kickstarter campaign of Eiyuden Chronicle : Hundred Heroes will take place from July 27 to August 28. Depending on the milestones reached, PC versions, then PS5, Xbox Series X and Switch will be scheduled for fall 2022. The amount requested to develop the game first on PC being $ 500,000.
Eiyuden Chronicle, the J-RPG from the creators of Suikoden is revealed

By Tiraxa, Writing jeuxvideo.com
MP