Since the news of the fire in Elsa Serrano's apartment was known, it was expected that it was all a mistake, but the confirmation that the designer had indeed lost her life in that way left the feeling that an atrocious way was lost. important value in the cultural history of the country.

Although Elsa was born in Italy, since she was fourteen she lived in Argentina and had been with her for more than fifty years of experience in clothing design. A name that was always heard from the greatest divas on television, wearing their haute couture garments, from Susana Giménez to Mirtha Legrand, and was also chosen by Norma Aleandro to go to receive the Oscar for "The official story." A style that was all the rage during the nineties mainly, very hand in hand with an aesthetic of opulence a la Versace, but adapted to the needs of its clients.

His company suffered some financial shocks during the 2001 crisis, but his name never stopped being linked to a luxury aesthetic. This year she had gone to the "Corte y confección" program, where she was honored and had the opportunity to tell intimate details of her career, such as when Susana asked her to make her wedding dress to marry Huberto Roviralta.

"One day, Susana comes and tells me: 'I'm getting married on December 4'. I was leaving on November 22 for three days and he told me, 'No, I have a seizure, you can't go.' But I tell him: 'I can't not travel, but stay calm, tomorrow we'll meet at your house or in Mansilla and we'll talk about it,' "Elsa said. But the speed and the trip did not prevent the result from being a total success: "I remember that it was going to be a spectacular party at the Hotel Alvear, with more than 500 guests. So there was a lot of pressure. Luckily I always dressed Susana and I already knew what she liked and what she didn't ".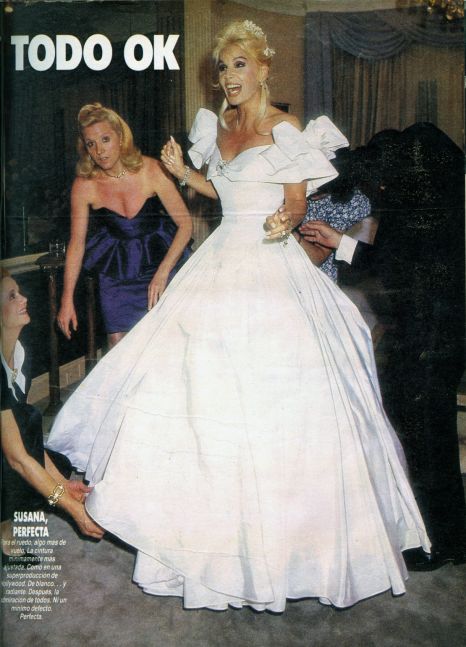 The creator achieved visibility in the eighties when she dressed the wife of the then president, Raúl Alfonsín, and since then all the people who achieved a certain power came to Elsa to design their costumes, she even dressed international artists such as Sophia Loren, Catherine Deneuve , Gina Lollobrigida and the dancer Maya Plisétskaya.
.