So what are your goals for the new season?
We will, of course, try our best to win every match. As every year, we want to get a degree. We intend to entertain the whole comet family with quality performances. I believe that those fans who do not get into the auditorium due to limited capacity will keep their fingers crossed for us on TV. But the second thing is what the upcoming season will look like due to coronavirus problems. It's a big unknown for everyone.
How has the covid situation affected your club?
Significantly. We were used to working with a budget of around 120 million crowns. Of this, twenty-three million went to the youth and twenty-three to the operation of the hall. Now we have fifty million crowns for everything. We are negotiating with the Brno City Hall to see if it would contribute to the arena where we had to cancel eleven contracted concerts this year.
What about player salaries?
During the preparation, they took only fifty percent of what they have in the contract. I appreciate the helpfulness with which they approached it. We talk about it practically every day. If our economic situation allows it, I want to refund at least part of the money they have lost in their payments since September.
How did you build contracts for the new hockey players who came before this season?
They received a low base but a solid bonus for matches played and Canadian points. When they play, they make money. If not, he won't lose that much club. We're all in the same boat. My job is to keep the Comet in debt.
How many season tickets did you sell?
Four thousand. Then we stopped the sale. According to the existing measures, we can let a maximum of 4,300 spectators into the auditorium. I wish it stayed like that. God forbid that our hall, which was approved sometime in 1982, has so many separate entrances. However, in the context of the current increase in those infected, I risk some major restrictions. I pray it doesn't happen.
How do you rate the game preparation?
The first matches in the summer cup group were not very successful for us. We started winning from the match with Hradec Králové, but we certainly still have something to improve.
It was only during the match with Hradec that you stood on the switch for the first time. Why?
Before that, I had a number of interviews with officials of the football association who already had experience with league competition during the coronavirus, or with state officials on how to support sports clubs that lost a lot of money due to the pandemic. I met a lot of people, so I didn't want to risk infecting players. Then, when I felt that the negotiations had shifted significantly, I stepped out of them. I stopped going to Prague so often. I realized that it was important for me to be at home. That means paying a lot more attention to your club.
Why did you cancel the last two preparatory duels in Vítkovice and Zlín?
Five of our hockey players had a temperature. I wanted to be responsible to my opponents, so we prevented both matches for preventive reasons. Maybe he won't know it on our part now. Fortunately, subsequent tests on covid showed that no one in the club was positive. In retrospect, I also consider this to be the right decision. Of course, none of us at the moment know what tomorrow or next week will be.
How has the Brno team changed after the departures of experienced support from Martin Erat, Tomáš Plekance or Tomáš Malec?
Already in the last unfinished season, it became clear how much we missed the long-time captain Leoš Čermák or Martin Erat, who jumped into the season later and then worked with an injury. Now we have lost another significant personality, Tomáš Plekanec moved to Kladno for well-known reasons. We are glad that we got Jakub Klepiš to replace him. Even so, the greatest responsibility will again lie with Holík's elite attack on Zaťovič and Mueller. And I believe that our young people will continue to improve. Last year, the defender Svozil grew significantly in terms of performance, I wish others would imitate him.
What do you expect from Friday's extra-league premiere with Třinec, who won the summer cup competition?
A beautiful and mutually offensive match that the spectators will enjoy. Our mutual matches with the Silesian team have always been characterized by high quality. We will do everything to win, as we did in overtime before the season in a friendly match.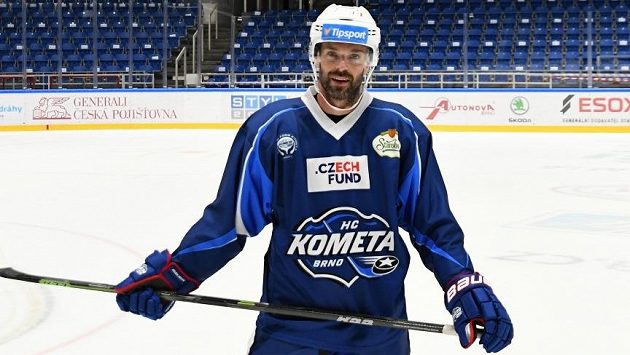 Jakub Klepiš is a new reinforcement of the Brno Comet.
Jiří Grulich, https://www.hc-kometa.cz/
Will your offspring Zbořil and Hájek, which you got at the last minute from overseas, take on the defense?
We paid insurance for Jakub Zbořil and he should play. It is a bit more complicated with Libor Hájek, I assume that it will be available from the beginning of October. And we are counting on Valský's offensive, who passed the exam with us. Unfortunately, on Friday we will miss the injured Klepiš.
Is it true that you wanted to postpone the start of the extra league?
Yes. Also, the vast majority of other European competitions will start later. On APK, I suggested that we start the new extra-league year on October 2, with the proviso that it can also be played on Tuesdays, which are usually free. But I was outvoted, there was no will to postpone at other extra-league clubs. So I respect that and we are carefully preparing for Třinec.
.