While the crisis between NATO and Russia over Ukraine continues, Norway will shortly begin this year's largest NATO exercise in northern Norway, with 35,000 registered soldiers.
Published:
Updated yesterday 13:10
– The exercise will go as planned, says Minister of Defense Odd Roger Enoksen (Sp) to VG.
28 nations with a total of 35,000 soldiers have signed up for Cold Response.
The main exercise takes place in March and April, according to the Armed Forces, but some allied countries sent forces to Norway already last autumn to start winter training.
Of these, 14,000 are land forces, 13,000 are naval forces on board vessels, while 8,000 are air forces and headquarters established at various bases.
In recent days, it has become known that both the United States and the United Kingdom are sending formidable aircraft carrier groups with fighter jets to participate in the exercise. But according to Enoksen, this has been in the plans at least ever since he became Minister of Defense, in October last year.
– It has been planned for a long time, says Enoksen.
He states that the military exercise "Cold Response 2022" will take place at a great distance from the Russian border, mainly in the sea, air and land between Bodø and Tromsø.
Between Bodø and Tromsø
– There are no plans to go further north than we usually do during such exercises, the Minister of Defense adds.
– Does Russia have reason to feel provoked by this exercise?
– By no means. This has been announced, also to Russia. We are now conducting a dialogue with Russia so that they will be well informed. From the Norwegian side, it is important to implement this ordinarily, and show that we do it as we have planned, he says.
Russia's military leadership has received invitations from both NATO and Norway to come to northern Norway and observe the exercise.
Met Russia on skype
On Thursday, Russia's top military commander in the north received information in detail about the exercise. At that time, Lieutenant General Yngve Odlo, the commander of the Armed Forces' operational headquarters, had a skype meeting with Admiral Aleksandr Moiseyev, as commander of the Russian Northern Fleet.
The Armed Forces writes in a press release that this exercise is «the largest exercise Norway has led since the 1980s, and the largest planned exercise within the framework of NATO during 2022. The exercise is part of a series that normally takes place every other year in Norway . This year there will be a greater focus on amphibious and air-mobile forces than in previous years.
During the conversation, Admiral Moiseyev expressed that he appreciated the information that was shared, and that he was positive about a good and open military dialogue in the future. The entire session was carried out in a polite and professional manner, where the topic only dealt with the upcoming exercise in Norway this winter ", the Armed Forces writes further in the press release.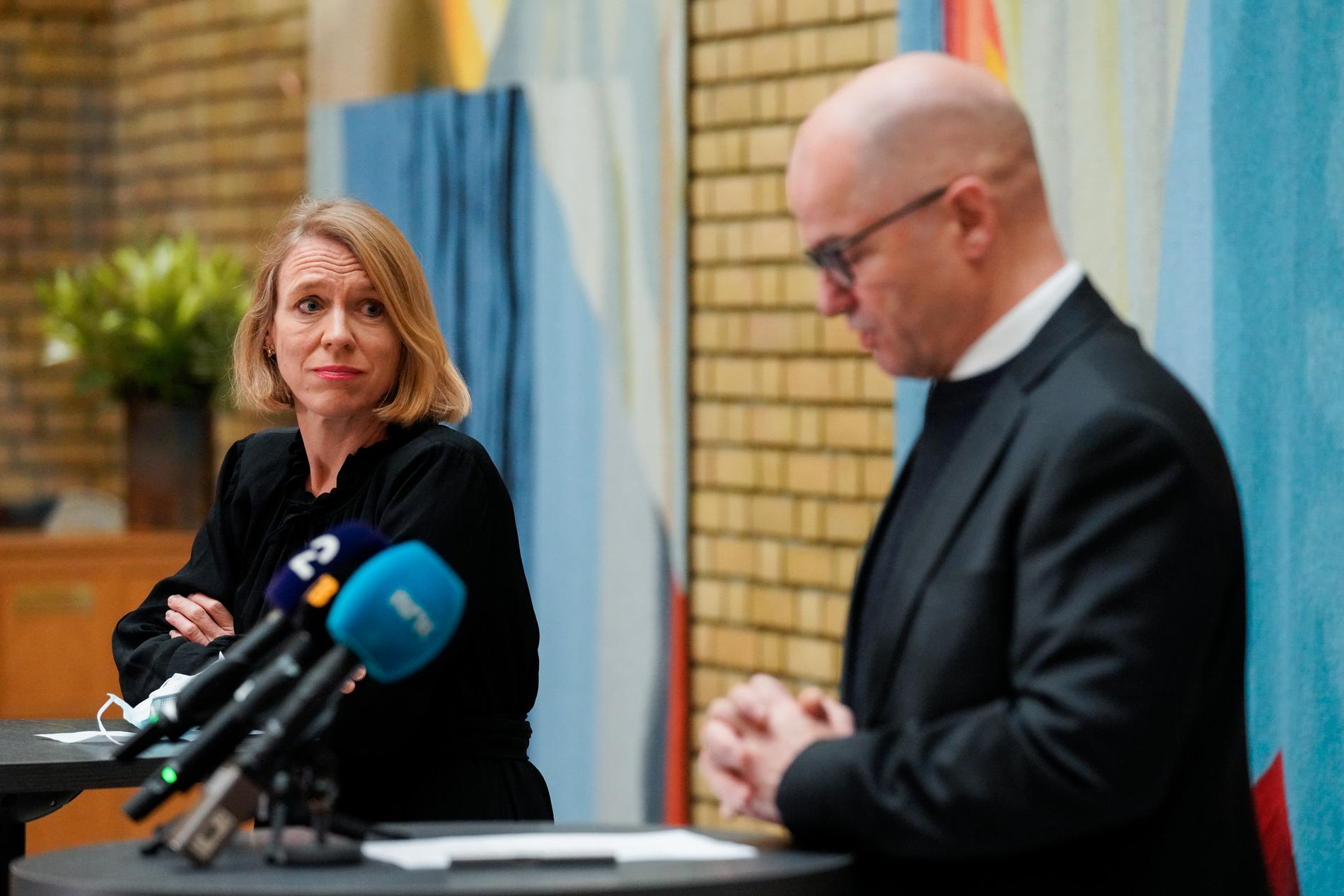 Met the Storting
Together with Foreign Minister Anniken Huitfeldt (Labor Party), Enoksen informed the Storting's expanded Foreign Affairs and Defense Committee on Friday morning about the situation after the meetings between Russia and NATO on Wednesday.
Huitfeldt says that the first signals from Moscow are not positive, after this week's meetings between Russia and Western countries.
– They stand by the main Russian demands, while we are open to further negotiations, says the Foreign Minister.
– It is a very serious situation, she adds.
– Now they are sitting and considering this in Moscow so we still do not know what has come out of this week's talks, says the Foreign Minister.
Hangarskip
Enoksen has previously informed VG that the American aircraft carrier "USS Harry S Truman" is scheduled to leave the Mediterranean and take part in exercise "Cold Respons". The Norwegian frigate "Fridtjof Nansen" is participating in this aircraft carrier group this winter.
The British Navy's new aircraft carrier "HMS Prince of Wales" will also take part. That was confirmed by the UK this week.