If you've ever found it painful to cross Melbourne Airport, imagine if you were traveling alongside nearly twice as many passengers today.
This will be the reality in the not too distant future, with Melbourne upside down to overcome Sydney as the largest city of Australia and its population will rise from 5 million to over 7 million in the next 20 years.
The population boom will increase the number of people flying and international visitors will grow at an even faster pace, as more efficient aircraft and airline competition make airfares less expensive.
Melbourne Airport expects that the number of passengers, which has grown by 60% in the last ten years, has increased from 36.5 million a year to more than 69 million a year by 2038.
Meanwhile, aircraft movements (take-offs and landings) are expected to grow from around 670 each day to more than a thousand. (There are 244,476 movements a year against 384,000.)
The airport says that it already has regular delays because it cannot move the plane fairly quickly on its two runways.
He expects to reach maximum capacity next year and, by 2023, expects to be plagued by delays during the day if he does not build a third runway.
The privately owned airport has plans to accommodate its growth and, based on that, keeps us moving around the world and at home without problems.
So how will the airport change? And how can a trip from Tullamarine in a couple of decades?
Gallery: Click on the right to see how the airport will change
The infamous descent ramp
One of the biggest pain points for passengers today is the last few hundred meters of their journey on the famous landing ramp.
The airport has started directing traffic to different areas in collection and redelivery areas depending on the time of day to facilitate congestion.
But for a long-term solution, it plans to move the drop-offs and pick-ups of private vehicles to levels two and three of the multi-storey car park opposite the main terminal.
The new landing area will be connected by high connection routes off the T4 entrance ramp, by a new exit dedicated to the highway and then to be refueled directly on the Tullamarine Freeway via Melbourne Drive – allowing the public to leave their loved ones without meeting an intersection.
Travel by car to the airport on peak days will be almost twice as many as 240,000 per day in 20 years.
This will also allow the terminal to expand into a part of what is currently the apron withdrawal area.
In the long term, the airport plans to move taxis and other commercial vehicles to the multi-storey car park.
From the parking lot, passengers will walk to the terminals via elevated pedestrian bridges.
Airport car trips on peak days will be almost twice as much as 240,000 per day in 20 years if there is no investment in public transport or other new ways to reach Tullamarine, says the airport. Looks like it's finally happening.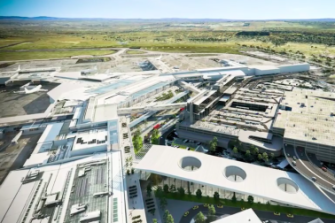 A rail link, finally?

After having been at the drawing board for 60 years, the long-awaited $ 11 billion airport rail link seems to be speeding up.
The state government wants the connection to be completed by 2031. The train's exact route has not been decided, but the government has indicated that it will travel through a "super-hub" at Sunshine Station.
The airport has set aside space for a rail link in the terminals, between T3 and T4, and is part of a private consortium comprising Metro Trains and IFM Investors that wants to build the link.
The group says it can start building next year and offered $ 5 billion for the project, combining $ 5 billion each with state and federal funds.
And, to cover its bets, the airport says its railway station could also be the base for a high-speed train station in the future.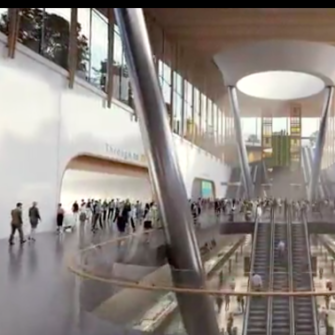 Inside the terminals
Melbourne is trying to keep pace with global trends and includes the installation of new self-check-in and bag-drop facilities on all terminals, self-service outgoing immigration checkpoints and more departure rooms and options catering and catering. With the fastest growing international traffic, Melbourne's T2 will have a major overhaul over the next five years.
Video: take a tour of the new international terminal
This includes the installation of three "swing gates" that can be used for both international flights and domestic flights at Qantas T1.
It intends to begin to expand the T2 shopping area by the end of the year, adding two new soccer fields on four floors. This will be used for shops and restaurants, five new airline lounges and a "rooftop square", including a bar and a restaurant overlooking the slopes.
The international pier will also be expanded to add an additional five aircraft gates.
By 2038, the airport expects the T2 footprint to double the size of today, expanding to make room for even more lounges, shops, restaurants and boarding for airlines.
The airport intends to continue expanding the south into what could become a fifth terminal.
The international arrival area, meanwhile – the cramped space that passengers leave after having cleared immigration, security and customs – will be greatly expanded in the area of ​​the front yard, where taxis are currently pick-up and drop-off passengers.
At home, the Virgin terminal is undergoing an important restyling at the moment, with the installation of self-service kiosks and bags.
A walkway between the Virgin terminal and the T4, used by Jetstar and Tigerair, has already been opened and another hotel will be built next to the T4 to open next year.
In the long term, the airport intends to continue expanding the south into what could become a fifth terminal under T4.
With the airport expanding, it is considering the construction of a large-scale travelator or an automated train – or "people mover" – to guide passengers between terminals.
Other tracks
Making room for more people is one thing: making room for more airplanes is another thing.
Melbourne Airport currently has two runways. It runs from north to south and is long and wide enough to handle super-jumbo jets that fly on long-haul international routes while the busy east-west run handles most of the heavy traffic.
The airport says its current runways will reach maximum capacity next year and want to start building a third runway, heading east-west, by 2023.
The project requires government approval and will open to public consultation within the next 12 months, with the hope of starting construction in 2020.
The airport says that the east-west orientation is the best option because the planes will not have to cross another runway to reach their take-off strip from the terminals.
Does a city the size of Melbourne have only one airport?
It will also extend the existing east-west runway to accommodate larger aircraft. After that a fourth track running from north to south is drawn in pencil, to be built sometime after 2038.
But some local residents are unhappy with the airport plans. They say that the east-west alignment of the third runway will put many more houses under flight paths than a north-south runway.
The Hume Residents Airport Action Group states that if the east-west runways go on, the airport should pay for sound insulation in the affected homes and impose a curfew between 11.00pm and 6.00am .
They also ask, should a city the size of Melbourne have only one airport?
London, for example, with its 8 million people today, is served by Heathrow, Gatwick, Stansted, Luton and City airports.
Scroll to see the noise of the airport for 2019 compared to 2038
Is an airport enough?
Avalon Airport, near Geelong, states that Tullamarine should not handle the cargo alone. The small airport is trying to become a bigger competitor and says it is already there to operate as a "third runway" for Melbourne.
Avalon has only seven domestic flights departing each day, all operated by Jetstar.
And it has recently become an international airport, with AirAsia operating with a return service twice a day to Kuala Lumpur, and it is itching to secure more flights, looking at other Asian companies that could be attracted by its lower runway fees. Avalon also has long-term plans to build a second runway as traffic increases.
However, some in the aviation industry believe that Avalon is too close to Melbourne's main airport and that the outer southeast of the city is where a second airport is actually needed.
The moves to actually build the Koo Wee Rup airport have not taken off.
Victoria's long-term state planning scheme has allocated land between Koo Wee Rup and Lang Lang for another airport, which would have been more easily accessible by residents in the southeastern suburbs and by Gippsland farmers who want to ship their products in Asia at night.
But the moves to actually build the Koo Wee Rup airport have not taken off.
Meanwhile, there are important developments in the world of aeronautical technology that could change the way we fly, with everyone, from Boeing and Airbus to Uber, who seek to develop small and efficient pilots.
This could open up suburban airports like Essendon and Moorabbin to fast and easy flights to Sydney or regional centers.
Something else that could rub the wings of Melbourne Airport is if a high-speed rail network is ever built between Melbourne, Sydney and Brisbane.
However, after decades of chat, but without fixed plans, getting used to Tullamarine airport is our portal to the world for the moment.