The presentation of Kona 3 years ago it marked the banner from which Hyundai has not stopped launching increasingly outgoing models. The style spread to Santa Fe, al Venue, al Chalk, al Elantra already practically the entire range, up to the Hyundai Tucson 2022, whose new generation breaks the mold to dazzle in the C-SUV segment.
The new Tucson looks futuristic and very close to a show-car. It is not a coincidence. For its design, Hyundai took the T Concept as starting point. That's where the peculiar LED lighting with five triangular modules for each headlamp, perfectly integrated into a grill that follows the same pattern.
The rear is no less spectacular. Lighting is once again taking center stage, with an LED strip that runs along the entire tailgate, from which two wedges are derived at each end. That, together with a spoiler, a colorful diffuser and very well defined style lines – especially at the waist – get a design with plenty of personality.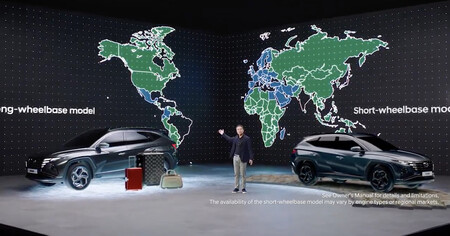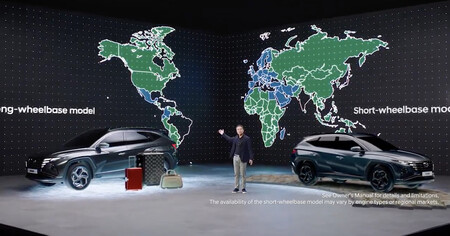 A highlight are the dimensions. The 2022 Hyundai Tucson debuts in two sizes, one 4.5 meters long – only 20 more than the model what's going out– and another 4.63 meters with an extended wheelbase. Its availability will vary according to markets.
Mexico, Colombia and Europe will receive the 4.5 meter version. The extended one will be for the US, Asia and other Latin American markets.
A minimalist cockpit that leaves little room for analog controls
The interesting thing about the design does not end with the exterior. Inside, the Hyundai Tucson 2022 It welcomes us with a minimalist-style cockpit, true to the idea that many "physical" buttons can be replaced by touch controls. Most of the controls are located in the center, under a 10.25 "screen placed like a tablet, separated from the rest of the board. The gear lever was replaced by buttons, following the transmission technology shift-by-wire.
We will find elements typical of the new generation of Hyundai high-end models, such as a 12.3 "digital instrument panel, from which information from the trip computer, driving assistance, navigation or parking assistant is displayed. Like Sonata , too will project the image from a camera to eliminate blind spot.
Other of the technological sparkles that Hyundai talks about are remote services through the Blue Link mobile app, a digital key that takes advantage of NFC technology to use the phone as a presence key, ambient lighting in 64 colors to choose from and multiple driving aids: Lane Keeping Assist, adaptive cruise control, blind spot monitor with brake intervention, forward collision alert with autonomous emergency and more.
Range of new engines and platform
He Hyundai Tucson 2022 was developed from the N3 platform, released just a year ago with the new generation Sonata. With this architecture, the Korean firm promises a comfortable and silent ride, as well as a higher level of rigidity, which translates into superior dynamics and a higher level of protection for passengers in the event of a crash.
The engine range It will vary from region to region. In America we will find it under two configurations, a 2.5-liter naturally aspirated engine 190 hp and 181 lb-ft with an eight-speed automatic transmission, and a hybrid version with a 1.6-liter turbo engine, capable of generating a total of 230 hp and 258 lb-ft.
In Europe, a version with a 1.6-liter turbo engine from 150 to 180 hp will be sold, with an option for all-wheel drive.
This same configuration will be used for a plug-in hybrid variant with a 13.8 kWh battery, but no consumption or autonomy has been announced for any version. In the future there is also talk of a N-Line version high performance, with a 290 hp 2.5-liter turbo engine.
The Hyundai Tucson 2022 will arrive in Mexico next year
The new generation Hyundai Tucson makes its global presentation simultaneously for all markets where it has a presence. Its sales in Europe and the United States will take place in the course of 2021, which suggests that Mexico will receive it during the second half of that year or early 202, to compete against KIA Sportage, Mazda CX-5, Volkswagen Tiguan, Nissan X-Trail, Toyota RAV4, Honda CR-V and the long etcetera of this popular category.
Note: the gray Tucson corresponds to the extended version for the United States; the blue Tucson is the European with the short body.