Did you mourn the failure in the finals of the Tokyo Olympic tournament?
It worked for me a little, but I thought I had to look good at the ceremony. And I also decided that I would not be sad after this loss, because it is a really great success. In Paris, after losing in the finals of the French Open 2019, I was very sad and somehow I did not enjoy the success. I want to remember the Olympics nicely. And I have silver, so I won't be sad.
The final match was full of twists and turns. Did it evolve according to your ideas? Which moment was crucial?
I had a break in the third set and an advantage at 3: 3. But she played well. I don't blame myself for anything. It was hard because Belinda was going through everything in her head. I think she really did well in the finals. If she played a little worse, the result would be reversed. To be honest, she deserved the victory. In my opinion, we both played a great match. The exchanges had to be looked at nicely. After all those matches in the heat, we left everything on the court.
You fought for every ball, you flew on the court from side to side. Did you hope that you would beat your Swiss opponent physically, because in total she only had three hours more time on the court from singles matches?
I mainly wanted to enjoy the finals, because you don't play it every day. I knew I already had a sure medal. I thought I would go to every ball and I would do my best. The gold didn't work out, but I have a clear conscience that I left everything on the court. Unfortunately, Belinda was better. We can't win both. We're friends, so at least I'm glad she beat me.
What is the silver Olympic medal you have around your neck?
Beautiful. And insanely heavy. I'm absolutely thrilled with it. I hope I don't lose her somewhere along the way. I'll keep it on my neck the whole time. I will definitely have to find a suitable place for her at home. We bought a cat that breaks everything for us, so it will be necessary to choose a place so that it does not get to the medal.
When you look at the Tokyo Silver Medal, what will you see?
Terrible heat and terrible toil. In the end, I was really done, but I fought for every ball. I'm proud of myself for playing like that.
You entered the final match with a taped knee, which you injured during the semifinal match. How much did your health problems limit you?
At all! I somehow moved with my knee in the semifinals, but I don't even know exactly what happened. I didn't even go to train on Friday, how much my leg hurt. Before the finals, I took a pill, had my foot taped and went to fight. Then the pain disappeared during the match, the adrenaline suppressed everything. I got together and didn't think of an injured knee.
When you entered the final battle, you had a friendly conversation with Belinda Bencicová. Was the atmosphere so relaxed?
Yeah. We had fun mainly before the semifinals. And then, when we both won our semifinals, we wrote that we have a certain medal. We both wanted gold. And we were both bitten on the court, we didn't give each other anything. But as I said, only one can win. And I'm not that I have a grudge and I don't want anyone.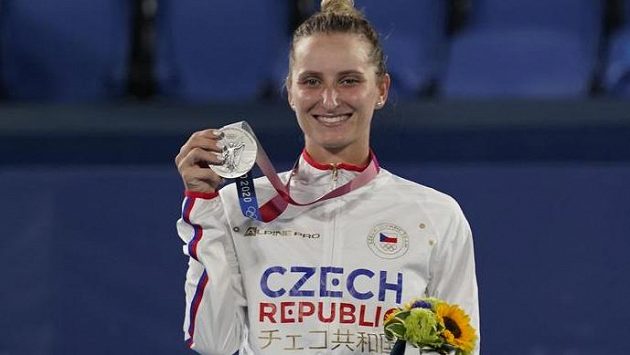 Markéta Vondroušová with a silver Olympic medal
Seth Little, ČTK / AP

Can you enjoy the joy of success yourself?

In Paris two years ago, after losing the final, I was disappointed, we didn't even go for food. Everyone was there and I stayed in the room, how sad I was. Now I thought I wanted to enjoy it. I look forward to returning to the Czech house in the village and celebrating. And just like that at home. I'm really looking forward to the Czech Republic, I'll enjoy the Olympic silver.
Is there a special reward waiting for you?
I hope my grandmothers make me blueberry dumplings. I will try to go to Sokolov as soon as possible, because there they watched the match on a large screen in the square and it was great. As I was from a small town, everyone experienced my final match. It is very nice. That's why I want to go home fast.
.