content
Randy Barnes, a shot put for life, has held a world record without any credibility for 30 years.
23.12 meters – this is the world record in shot put to this day. This record was set by Randy Barnes exactly 30 years ago at a meeting in Los Angeles. This world record is likely to remain for a long time, since it came about under questionable circumstances.
Positive test in Malmo
A good two months after he improved the outdoor world record of East German Ulf Timmermann by six centimeters, Barnes in Malmö went online with the doping investigators. They showed him the use of the anabolic steroid methyltestosterone.
Despite the ban, Barnes' world record remains recognized to this day. The International Athletics Association IAAF continues to refrain from canceling the distance reached. The request to erase all records set before 2005 is still awaiting implementation.
Unsuccessful Lawsuits of Barnes
Barnes, who has also held the indoor world record at 22.66 m since January 1989, reacted to the test result in Sweden like most fraudsters. He was not aware of any guilt, denied the use of banned substances and spoke of manipulation of his urine sample and conspiracy. He went to court twice with a complaint, and twice the appeal was dismissed.
Barnes returned to the competition ring in February 1993 in Los Angeles – with the long-term goal of the 1996 Olympic Games in Atlanta. In front of his home audience, he fulfilled his dream of a gold medal, which he had just missed eight years earlier in Seoul.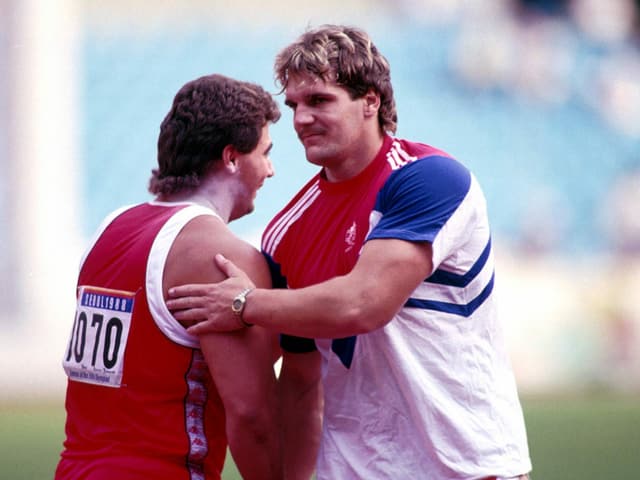 In South Korea's capital, he was second behind Timmermann and Werner Günthör. With his last attempt, he surpassed compatriot John Godina and still did justice to the role of favorite.
Again convicted of doping
Two years after the triumph in Atlanta, Barnes was history as a shot put. In the spring of 1998 he was convicted of doping again and shortly afterwards was given a lifelong ban as a repeat offender. Nevertheless, his world record still counts.