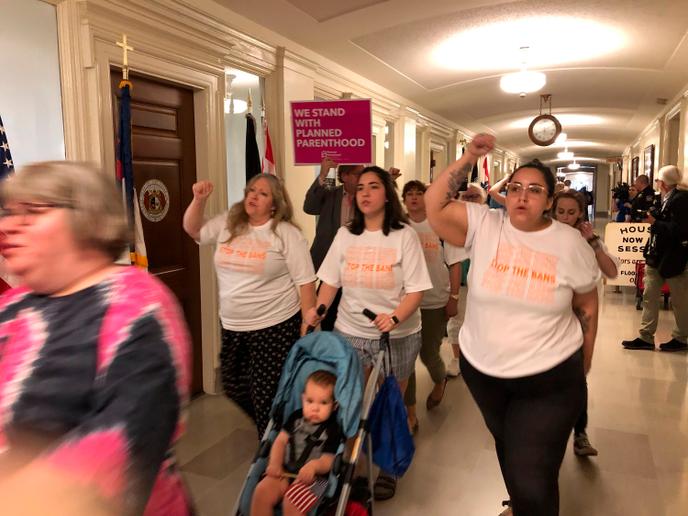 The Missouri Parliament passed a very restrictive abortion law on Friday, May 17, following in the footsteps of several US conservative states, such as Alabama and Georgia, which want to bring the matter back to the Supreme Court.
Doctors are prohibited by law from practicing voluntary abortion after the eighth week, an act punishable by up to fifteen years in prison. There are exceptions for medical emergencies, but not for victims of rape or incest.
Read also
How the right to abortion is declining in Trump's America
The text has yet to be promulgated by the Republican governor, Mike Parson, a fierce opponent of the right to abortion who recently congratulated himself on Twitter for having reduced from 20,000 to 3,000 the number of abortions performed each year in his state. .
The law should quickly be overturned by the courts because it contradicts the iconic Supreme Court ruling, Roe V. Wade, which legalized the right to abortion in 1973. But the goal of Missouri, a rural and religious state in the center of the country, is to appeal to the High Court to convince it to reverse the decision.
"Torrent of Extreme Laws"
In the same logic, Alabama (South) has just adopted a law which prohibits all abortions except in the event of mortal danger for the mother, with sentences of up to ninety-nine years in prison for doctors.
Article reserved for our subscribers

Read also
Behind Alabama's anti-abortion law, legal guerrilla warfare to force the hand of the Supreme Court
Despite threats of a boycott of Hollywood, Georgia, where many filming takes place, had previously banned abortions as soon as the heartbeat of the fetus can be detected, around the sixth week of pregnancy, a stage where most women still ignore being pregnant.
Since the start of the year, similar laws have been passed in Ohio, Kentucky and Mississippi. "This torrent of extreme laws will probably continue", predicted the Guttmacher Institute, which advocates for access to reproductive health.
Read also
Abortion: in numbers, the paradoxes of American society
The religious right is galvanized by the entry into the Supreme Court of two magistrates appointed by the president, Donald Trump, who brought the temple of law into the conservative camp (five judges out of nine).
During the 2016 presidential campaign, the Republican billionaire conquered the conservative electorate by promising to appoint judges opposed to abortion at all levels.
Read also
In the United States, "the election of Donald Trump has galvanized anti-abortion"