There have been rumors for a long time that Nvidia's GeForce GTX 1650 will be launched in new versions with GDDR6 memory and will match the GTX 1650 Super in terms of memory. Discovered dealer entries indicate the new variant with the abbreviation "D6".
The GeForce GTX 1650 with 4 GB of GDDR6 memory instead of GDDR5 has not yet been confirmed by Nvidia, but enough information has now been compiled that does not make one believe in an April Fool's joke. The information comes from the manufacturer Gigabyte and from the retail trade. Initially, the resourceful Twitter user @momomo_us referred to corresponding entries with a German online retailer. The new variants can be recognized by model numbers that begin with "GV-N1656" instead of "GV-N1650" and have the abbreviation "D6" in the product name.
– 188 号 (@momomo_us) March 31, 2020
The website cnews.cz also delivered screenshots, which apparently come directly from Gigabyte and confirm the D6 versions with 4 GB GDDR6. With further pictures also confirmed VideoCardz the existence of the GTX 1650 D6.
The memory clock is still unclear, since both 12 Gbit / s and 8 Gbit / s are mentioned. Variant a) would increase the possible memory throughput by a whopping 50 percent, variant b) in turn would remain unchanged compared to the GTX 1650 with GDDR5. It is not yet clear whether the TU117-300 GPU will be used again. But the information on shader units (896) indicate TU117, while the GTX 1650 Super is based on TU116 with 1,280 shader units.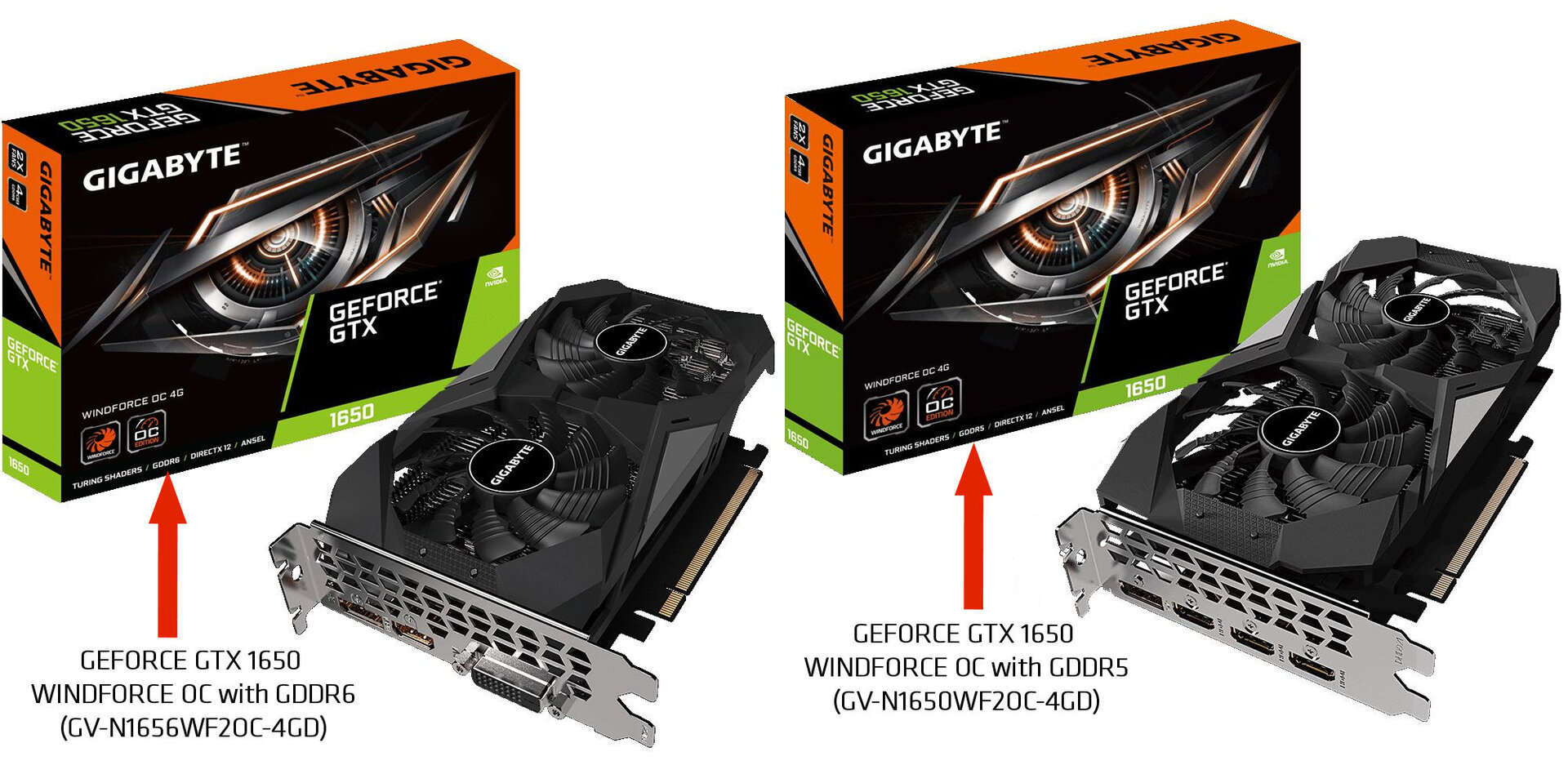 In the GPU clock, the GTX 1650 GDDR6 with 1,590 MHz should act slower than the original with GDDR5. This could be compensated for with a higher memory clock, but there is still a lot of room for speculation with the clock rates and thus the performance.
It is also unclear when, for which markets and from which board partners the GTX 1650 with GDDR6 memory appears. So far, only the Gigabyte variants have been confirmed.