Singer Pink was tested positive for the corona virus two weeks ago. The singer has stayed indoors ever since and is now cured. On Instagram, she reports that she has donated a million dollars in the hope that test material will become more widely available in the United States.
"Two weeks ago, my three-year-old son Jameson and I had symptoms of COVID-19. Fortunately, our doctor had access to tests and I tested positive," Pink writes on the social medium.
The singer explains that she was already at home with her family when she was diagnosed with the virus and that she has stayed in on doctor's advice for the past two weeks. "We tested again a few days ago and luckily we don't have it anymore."
Pink believes the US government is failing by not making the test material more widely available. "Testing should be free and enabled for many more people to protect our children, families, friends and communities."
The singer decided to donate half a million dollars to the Temple University Hospital Emergency fund in Philadelphia as a tribute to her mother who worked there in the healthcare sector. In addition, she is donating half a million dollars to the Emergency COVID-19 Crisis fund of the Mayor of Los Angeles. She thanks all the people who work in healthcare and calls on her followers to stay indoors.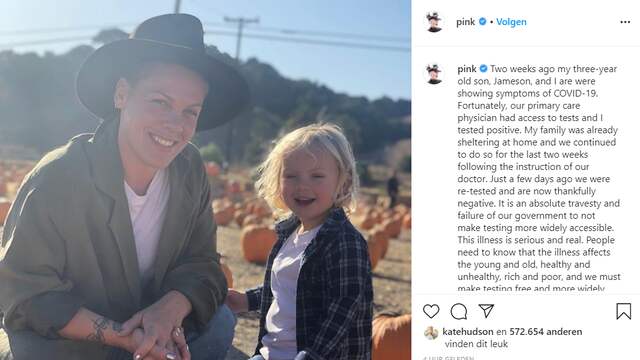 Pink tells Instagram that she hopes that tests for the coronavirus will become more widely available.
.