Sony patents a unique Xperia phone with a wide pop-up system with camera and speaker. There is also a pop-down system with speaker available.
During the past two years, various smartphone models have been introduced with a pop-up selfie camera. Manufacturers such as Oppo, OnePlus, Vivo, Xiaomi, Samsung, Huawei and Asus all have at least one model in the range with a retractable camera. This type of front camera only appears when you actually want to use it. Ideal, because if you do not use it, you have a full screen screen at your disposal – without a notch.
There are also a number of manufacturers who have not yet introduced a smartphone with a pop-up camera. Think for example of the Japanese electronics company Sony. Although many at the Sony brand will think of the new PlayStation 5, the company also still produces Android smartphones. With the latest top models, such as the Xperia 1 II, it has been decided to process the camera and receiver in the top screen edge.
However, a recently published patent shows that Sony is also considering integrating a retractable camera. The Sony device not only has a pop-up camera, but also a pop-down mechanism. This contains a speaker.
Sony smartphone with pop-up camera
Sony Corporation filed a utility patent in its home country of Japan in late 2018 for a portable electronic device and method for controlling portable electronic device. The patent was approved on May 14, 2020 and published in the WIPO (World Intellectual Property Office) database.
The extensive technical patent describes a Sony smartphone with a borderless screen design. The frame edges are extremely narrow, so a different solution has been sought for the front camera. The patented smartphone also has a pop-up camera. This covers the entire width of the phone, making it look aesthetically pleasing and sleek. This leaves enough space to integrate a speaker in the top extendable part in addition to the pop-up camera.
A similar extendable system is mounted on the bottom of the mobile device. However, this does not include a camera, but a speaker. It is therefore a dual speaker phone, where the bottom speaker unit has a "speaker box" for extra high quality audio. In addition to a speaker, there is also an antenna in both slider parts. The top and bottom parts can move independently and are activated automatically depending on usage.
For example, if you only need the selfie camera, only the pop-up camera will be activated. Do you want to make a call? Then both the pop-up and pop-down mechanisms will be activated. Also when listening to music or playing a video or movie, both the top and bottom parts will extend – the two speakers must then provide an excellent audio experience.
For example, it is described in the patent that the slider part changes in length, in accordance with the movement of the sound source. In other words, when a sound source moves to the right across the screen – think of a talking person, for example – the slider part on the right will increase in size. How this will work in practice remains unknown. Personally, it does not seem very useful to me if you hold the device in your hands to watch a video, which then moves the ends of the device every time. Presumably this will be done very subtly, so that the user experience remains good.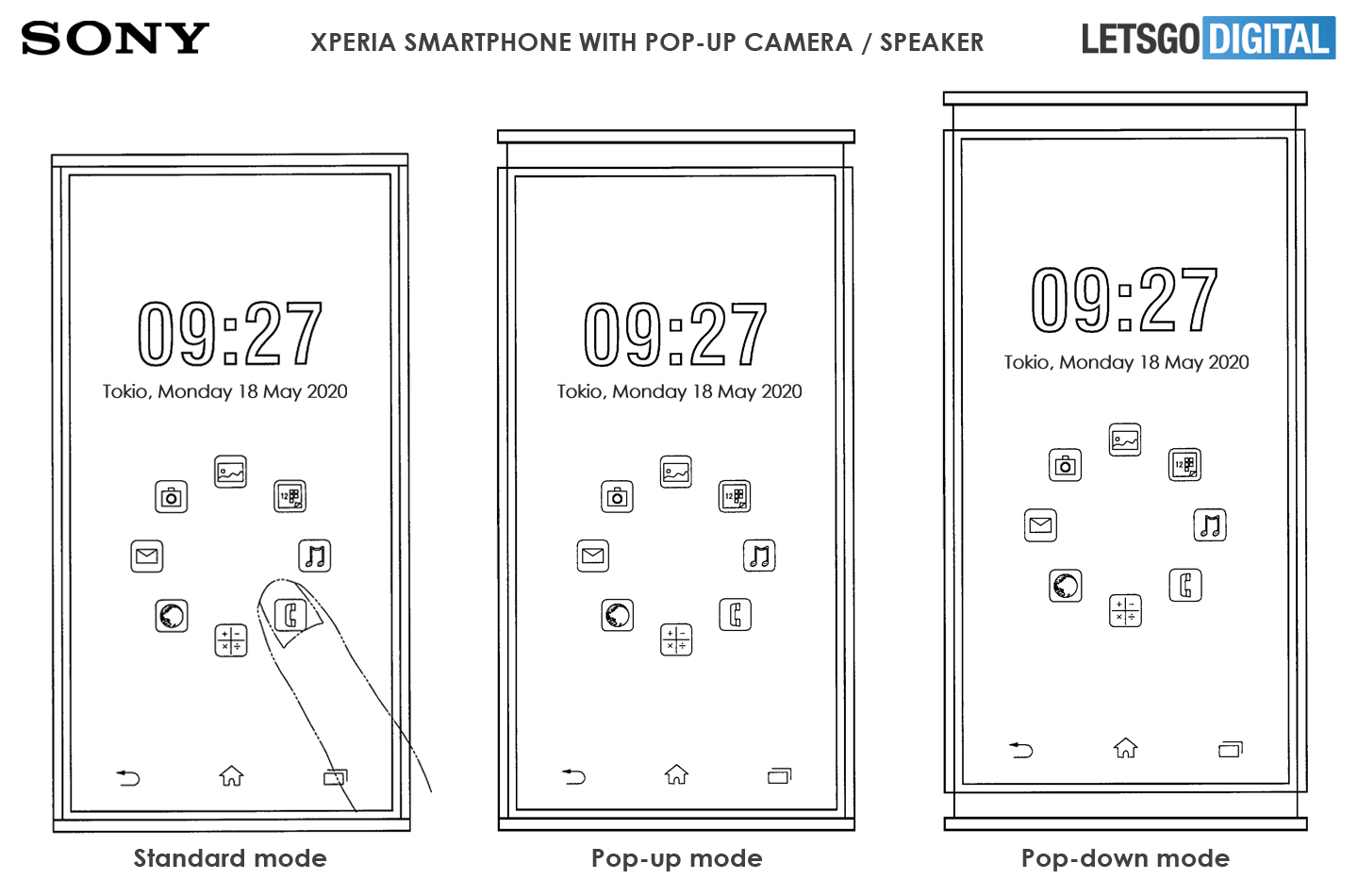 Xperia smartphone with a pop-down speaker
Whether Sony actually intends to release a phone model with a pop-up and pop-down system remains unknown. It seems that there are still some hooks and eyes. Finally, it takes a lot of space in the housing to process two such wide pop-up systems. Although Sony Xperia smartphones are nowadays equipped with an extra elongated display (21: 9), a lack of space within the housing can become a serious issue with this design.
In addition, waterproofing has been an essential part of the Japanese manufacturer for years. In 2013, the Sony Xperia Z was even the world's first waterproof smartphone. When using a pop-up / pop-down system, however, it becomes practically impossible to turn it into a waterproof device.
Nevertheless, there are of course a number of clear advantages to the patented technology. Finally, such a pop-up / pop-down system can contribute to an extra rich multimedia experience – which is also an important spearhead for Sony. In addition, the company will have to choose new solutions over time.
Another alternative is the punch-hole camera. In 2020, most top models are provided with a hole in the screen, in which the selfie camera is processed. Although Sony has not yet released an Xperia smartphone with such a camera system, we recently reported on a Sony smartphone with a punch-hole camera. We are therefore very curious what the Japanese manufacturer will choose in the (near) future. The next high-end model that is expected is the Sony Xperia 5 II, possibly that this smartphone will have a new type of selfie camera.
View the patent of the Sony Xperia smartphone with pop-up camera here