"It was a big battle and Honza said he didn't remember us going so many special stages in a second. It was tenths here, tenths there. It was a great sport and that's why we do it to have fun," Pech said.
He celebrated his previous triumph at Rally Bohemia with the Mitsubishi Lancer Evo IX in 2006, when Škoda representatives were absent from the start. In the following years, however, the factory team deployed its drivers at home, and Kopecký won here eight times. Last year, his then teammate Kalle Rovanperä from Finland was the fastest.
"It's a domestic competition for Škoda, they win elsewhere as well, but they are especially focused here. They are all the more pleased with today's victory in the lion's den," smiled Pech, who moved back to the WRC car this year.
In a slight exaggeration, he admitted that he wouldn't mind that much if he lost in the dramatic battle with Kopecký. "Maybe I wouldn't be angry if we finished second after such a fight, which we have experienced several times. When we drive evenly on 22 kilometers of erzeta, it's a great sport.
Although its focus is in 2006, Pech has been able to keep up with the latest Fabia R5 specifications. "It's a fourteen-year-old car, but it's like new to us," said Pech, who raced with the WRC Fords from 2002 to 2005. "Now that I got in it, it immediately fell into my hands. Apparently I when I was young, he learned to drive it, then I adapted to modern cars, but this style of driving is a little closer to me than the new R5, "said the 43 – year – old pilot, who has 161 starts in the" big "home championship.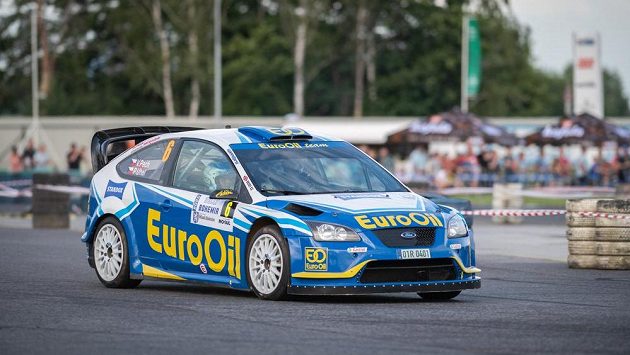 The crew of Václav Pech and Petr Uhel with a Ford Focus RS WRC car at the Rally Bohemia.
Vít Černý, ČTK
But Pech admitted that he himself did not expect to be so fast at the first start. "After the test we had before Boleslav, on which I drove fifteen and twenty kilometers, I liked it, but I did not expect such a speed," he said.
He also took the fact that it started on wet on Saturday and therefore did not have to drive to the maximum from the first kilometers. However, it is said that it does not have more engine power than Kopecký. "We measured it and found that we are not driving more than the (Volkswagen) Polo. It has more torque, I drive a little better in a corner than with a fiesta, but the car is no longer ahead," said Pech.
The Pilsen native has now taken the lead in the ongoing evaluation of the Czech Championships, but he does not want to talk about an attack on another title. "We'll see in Valaška if we just didn't irritate the snake with our bare feet. In any case, we couldn't have wished for a better entry," Pech said. The championship will continue in the Moravian-Silesian Region at the beginning of August.
.