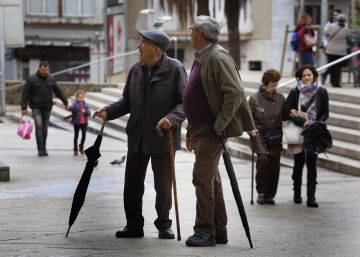 The first measure of the new Government has been to increase pensions by 0.9%. The increase will be noticed by pensioners on the February payroll. But as the climb will be retroactive from January 1, pensioners will also receive a small paguilla which will compensate for the delay and will be consolidated in their respective payrolls. Taking into account that the average Social Security contributory pension was 995.76 euros in December, the increase will be about nine euros. With this, the average will exceed the symbolic bar of 1,000 euros.
But the average data hides the great disparity of pensions that exist and does not clarify what the maximum pension will be or how much the minimum will rise. The simplest to calculate is the maximum, which will rise by almost 24 euros, going from 2,659.41 euros per month to 2,683.34 euros. If it is calculated in annual calculation, the maximum pension will amount to 37,566.76 euros, which comes out of multiplying by 14 (counting the two extraordinary) that monthly amount.
When talking about the minimums, the situation is complicated because the lower pensions are based on the personal situation of the beneficiary (it is not the same as having dependents or not), of having more or less than 65 years and the type of benefit he receives (retirement, widowhood, disability). What Pedro Sánchez announced in the investiture debate is that these pensions were going to rise more than the 0.9% announced yesterday for the 11.1 million public pensions in Spain (Social Security and passive classes or retired officials) or almost 10.5 million pensioners. But that additional increase for the lowest will have to wait, say sources from the new Ministry of Social Security. In the Executive, it is explained that they have just begun their journey and that they still need time to prepare this greater increase in minimum pensions.
Waiting for that increase to arrive and applying that 0.9% increase for now, the minimum pensions would be as follows:
Retirement pension of those 65 years of age or older. For those who have to take care of their spouse the monthly pension, which they will receive 14 times a year counting the two extraordinary ones, will amount to 843.32 euros. If the retiree lives alone, the benefit will be 683.5 euros, and if he lives with his partner but does not take care of it, it will go down to 648.69 euros per month.
Retirement pension for those under 65 years old. For those who have to take care of their spouse the monthly pension, measured at 14 payments per year, will reach 790.65 euros. If the retiree lives alone, the benefit will be 639.4 euros, and if he lives with his partner will fall to 604.39 euros. When these three quantities are multiplied by 14, the resulting annual amounts are 11,069.14 euros, 8,951.65 euros and 8,461.47 euros, respectively.
Retirement pension of those who are 65 years of age or older and come from a severe disability. What they take care of their partner will receive 1,264.98 euros and those who live alone 1,025.24. If they live with their spouse, the monthly payment will be 973.08 euros.
Minimum pension of great disability. Again, you have to look at whether the pensioner is in charge of the spouse (he will charge 1,264.98 euros per month), lives alone (1,025.24 euros) or lives with his partner (973.08) without carrying on with his maintenance.
Minimum pension for absolute or total disability. In this case, the amounts will be somewhat lower than in the great disability. If the beneficiary takes care of his spouse, he will charge 843.32 euros per month; 683.5 if she lives alone and 648.69 if she lives as a couple but does not take care of her.
Minimum pension for total disability between 60 and 64 years. The benefits of this group will remain at 790.65 euros per month if they take care of their spouse; in 639.40 if they live alone or in 604.39 if they live with their partner but do not support it.
Minimum pension caused by common illness with less than 60 years. These are the lowest pensions that are charged for permanent disability. In this case, the monthly payments of those who have a dependent spouse and live alone coincide and will be 503.89 euros; On the other hand, those who live as a couple and do not have to take care of it will receive 499.46 euros.
Minimum widow's pensions. Although there is no longer a variety of situations such as retirement and disability benefits, there is also diversity depending on the widow's personal situation. If you have family charges, you will be charged 790.65 euros a month 14 times a year. If you are 65 years of age or older, you will receive 683.5 euros; 639.40 euros if you are between 60 and 64 years old and 517.72 euros if you are under 60 years old.
Orphan's pension. The orphan with a minimum benefit will be entitled to 208.86 euros and 410.97 if he is under 18 and a disability of less than 65%. If the orphanhood is absolute, the beneficiary will charge 726.58 euros.
Minimum pension for family members (which is granted by those who have lived together and depended economically on a deceased and meet the requirements to receive it). In this case, each beneficiary will have the right to collect a monthly payment of 208.86 euros. When there is no widow and only benefits one person 65 years of age or older, the benefit will rise to 504.70 euros; and if it is less, 475.74 euros.
The 0.9% increase will result in an increase in Social Security spending of 1,406 million during 2020. This measure will further stress the relationship between Social Security income and expenses because, unlike other years , the contribution bases have not yet been increased. Normally, this indicator that in its minimum part is linked to the progress of the interprofessional minimum wage (SMI) is updated on January 1, increasing the income of the public institute automatically.
In 2020 that decision will be delayed. When the Government was in office until last Monday, Sanchez delayed the decision and, in addition, promised to negotiate it with the social agents. Those conversations have not yet begun. Yesterday sources from unions and businessmen explained that the new Minister of Labor, Yolanda Díaz, has not yet called them to start the dialogue.
If the procedure followed other years is fulfilled, when the minimum wage rises, the minimum contribution bases will do so, and with them, the maximum ones (4,070.10 euros per month until now).
.