NSW Tourism Minister Stuart Ayres said that tens of thousands of people gathered in the city for Vivid's opening night and attributed his success to removing many architectural barriers around Circular Quay.
"Consequently, the pedestrian flow on the opening night was much smoother and the concourse areas more spacious," he said.
Social media was full of comments mostly of appreciation for the Austral Floral Ballet The installation of light has spread on the sails of the Sydney Opera House.
NSW Premier Gladys Berejiklian tweeted a photo of herself with the creator of the Opera House light show Andrew Huang, the creative director of Vivid Ignatius Jones and Mr Ayres, with the words: "Sydney is radiant … "
Other social media users have questioned the amount of energy used during the festival and the size of its carbon footprint.
A spokeswoman for Vivid said: "Most light installations use LED lights that absorb about a tenth of the power of a normal light globe."
Few visitors seemed stunned by the long queue to enter the Electric Playground installation, outside the Museum of Contemporary Art, with rarer crowds around other lightworks scattered around Circular Quay, The Rocks and Darling Harbor.
NSW police said there were no incidents resulting from Vivid's first night.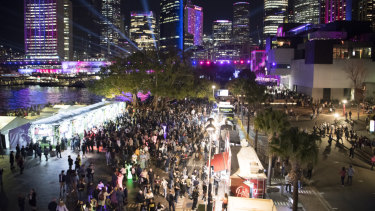 The 23-day festival offers light shows throughout the city, Chatswood, Taronga Zoo, Luna Park and the botanical gardens, as well as a program of musical performances and "ideas events".
The British band The Cure will perform five concerts at the Sydney Opera House during Vivid, while director Spike Lee will appear at the Sydney Town Hall on June 1st.
The NSW government has organized 5,000 public transport services during the festival, which will run until 15 June, in an attempt to avoid traffic snarls and encourage people to visit the city on weekdays rather than on weekends.
Loading
Last year, Vivid attracted 2.25 million people in its 23 days, according to the NSW government, and Mr. Ayres said that more visitors are expected if the mild climate continues.
"Every year we learn from the last and this allows us to continue to improve the experience," he said. "Probably a natural spike in attendance, but until we find it we will continue to challenge ourselves to continue to innovate and improve Vivid Sydney."
Ayres stated that the organizers are satisfied with the pedestrian flow and the feedback on large-scale installations.
"The general comments of the public were on how large they are and how impressive many of the light art installations are, and how large and spacious the concourse areas are this year," he said.
Andrew Taylor is Senior Reporter for the Sydney Morning Herald.