The promotions evolve regularly, almost every week, among the operators, in particular it must be admitted at Bouygues Telecom, with its B & You packages, and at RED by SFR, which are always engaged in a fierce struggle with very similar offers on paper.
Let's start with sosh, the Orange subsidiary which uses the Orange network 100% without any limitation, and offers two of its promotional mobile plans, namely plans with 20 GB and 50 GB of mobile data.
These two promotions are valid until January 27 9 a.m.. You will thus find the package at 24.99 € per month of the proposed operator only € 14.99 per month without commitment for 12 months (package with 50 GB of data), but also the package at € 19.99 per month which passes for 1 year only € 11.99 per month (20 GB package), all without obligation.
As a reminder, these packages include:
Unlimited calls and SMS / MMS in France
Mobile Internet with 20 or 50 GB of data (speed reduced beyond) in mainland France
Send unlimited SMS to Europe / Switzerland / Andorra / DOM
From abroad, unlimited calls and SMS / MMS to these areas and to France and enjoy your 20 or 50 GB of mobile internet as if you were in France.
Unlimited calls to USA and Canada and landlines in Europe only for the € 24.99 package
Universal SIM card (5 €)
Let's continue with Red by SFR whose price will not change after one year.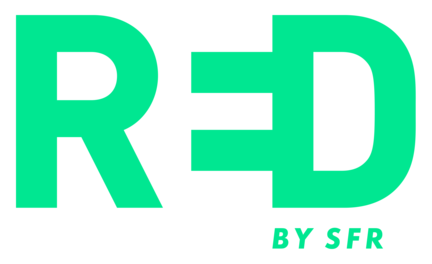 In its mobile offer, RED by SFR therefore offers its RED by SFR package to 12 € / month (instead of 15 €) with unlimited calls and SMS / MMS as well as a data envelope of 60 GB monthly, valid until January 27. When traveling in the European Union or in the French overseas departments, the package also allows you to make unlimited calls, ditto for SMS / MMS. In addition you will have the right up to 8 GB of data.
This week your package allows you to benefit free of charge from the SFR Security + Paswword 1 equipment option, which is an anti-virus protection to protect your computers, phones, tablets. You will be able to navigate in complete safety without fear that your personal data will leak on an infected site.
And for those who need a larger volume of data, the data envelope can be increased:
100 GB / 10 GB abroad for an additional € 8 / month.
In the same reasoning, it is possible to take advantage of more data from Europe and the French overseas departments but also from Switzerland, Andorra, the United States and Canada:
15 GB from EU / DOM but also Switzerland, Andorra, USA and Canada for 5 € more per month.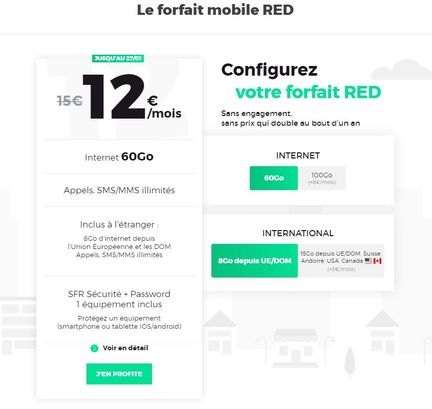 The Red by SFR package is always non-binding, and this also applies to the options chosen by subscribers. If the user needs a larger volume, he can change his available data from one month to another. All the details are available on the RED by SFR page.
free mobile always offer his Special Series package at € 9.99 per month with 50 GB of data including 4 GB in roaming. As a reminder, this rate of 9.99 euros per month is valid for one year, after the latter automatically switches to the standard package at 19.99 € per month (100 GB / 25 GB of data). The special series (without obligation) is aimed at new subscribers. It includes unlimited calls, SMS and MMS (mainland France and to the DOM), 50 GB of mobile Internet in 4G in France, as well as 4 GB per month in 3G from Europe and the DOM.
Finally Bouygues Telecom offers 2 non-binding mobile plans and the rates valid for any subscription until February 4 with a rate that will not change as long as you remain a subscriber.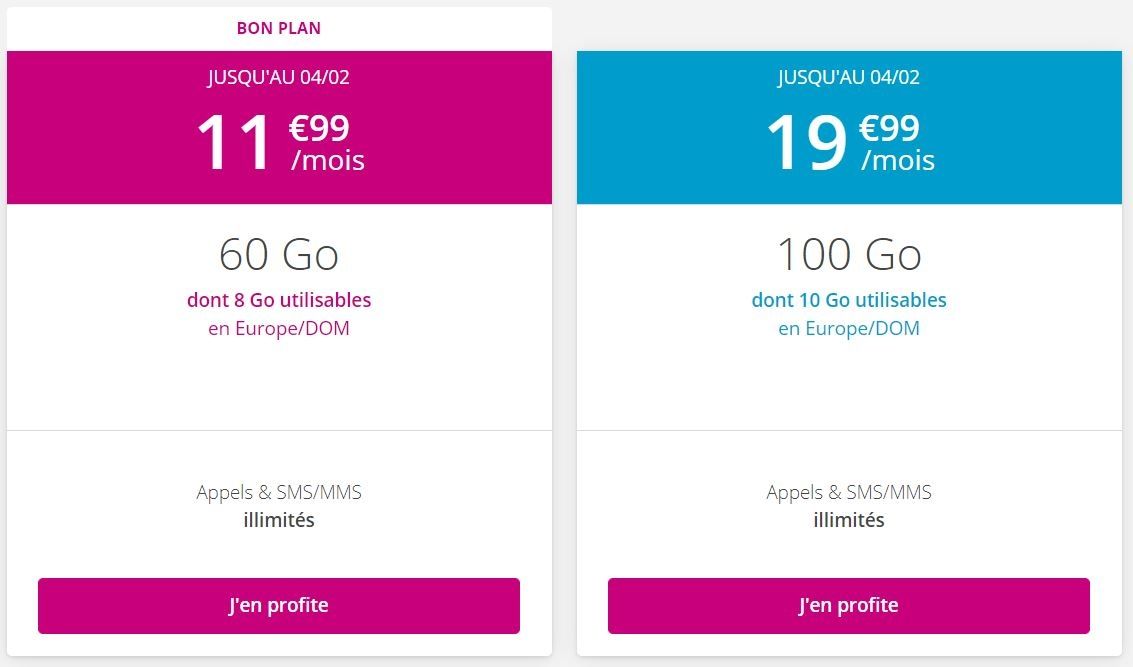 For € 11.99 per month, subscribers will be entitled to unlimited calls and text messages and to 60 GB of data, including 8 GB usable in roaming in Europe and the DOM.
For € 19.99 per month you will go to 100 GB of monthly data, including 10 GB usable in roaming.
These offers are conventionally reserved for new subscribers with line opening and SIM provided billed at 10 €.
And for any subscription to a B & You mobile plan, Bouygue Telecom currently offers you 3 months free subscription to Spotify Premium service (unlimited music).
And among virtual mobile operators, we find this week 4 promotional offers:
La Poste Mobile currently offers its non-binding mobile plan, generally billed at € 14.99 per month, only € 9.99 per month. Note that this price is valid as long as you remain a subscriber.

this package includes:
Unlimited voice, SMS and MMS calls in mainland France, from mainland France to overseas departments, and from Europe and DOM / COM areas to these same areas and mainland France
30 GB of data usable in France of which 10 GB can be used in Europe (blocked beyond)
Prixtel which offers an adjustable package with no commitment displayed from only 4.99 euros per month for 12 months.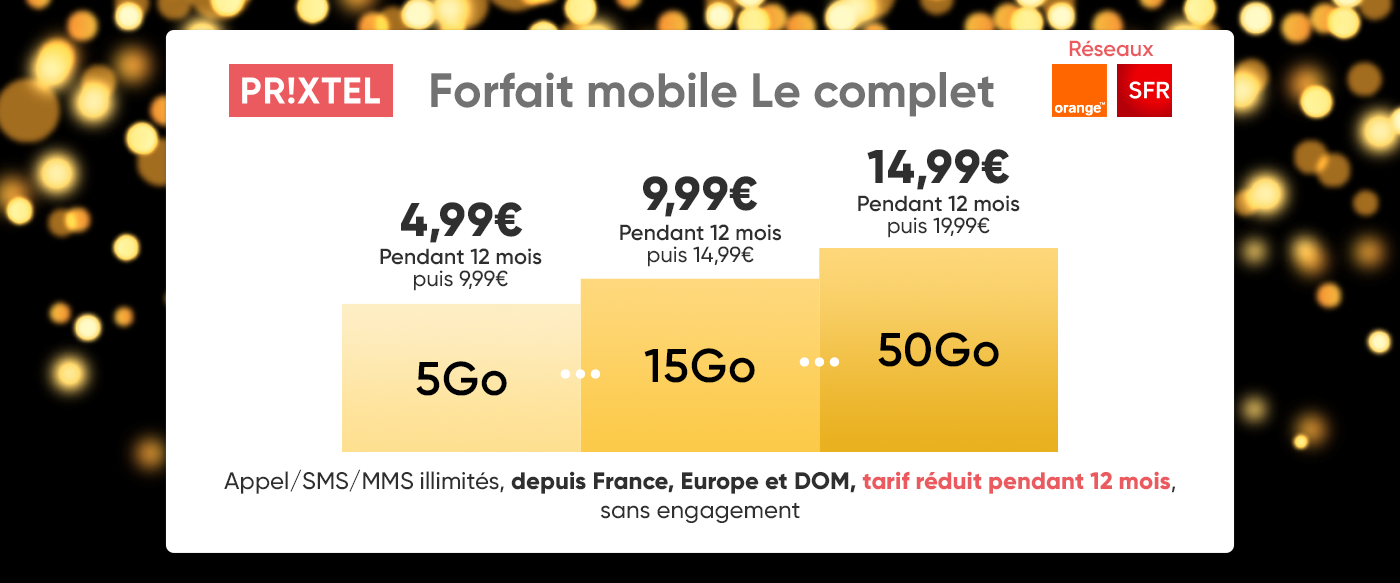 The price of your mobile plan will depend solely on your consumption of mobile data as specified below:
Up to 5 GB of data: € 4.99 per month (instead of € 9.99)
Up to 15 GB of data: € 9.99 per month (instead of € 14.99)
Up to 50 GB of data: € 14.99 per month (instead of € 19.99)
Of course, this package also includes unlimited calls, SMS and MMS in France to landlines and mobiles, but also those from Europe and the French overseas departments to France. It should be noted that Prixtel uses the Orange and SFR mobile networks as desired.
NRJ Mobile offers until january 29 its no-commitment Woot mobile plan with 30 GB of data only € 4.99 per month for 6 months then € 12.99 thereafter.
The Woot 30 GB package includes unlimited calls, unlimited SMS and MMS in mainland France, overseas departments and Europe, and therefore a 4G data envelope of 30 GB (up to 100 Mbps, speed reduced beyond) and 3 Go to Europe. The SIM card costs 10 € but the option Visual voicemail is free.
Finally Cdiscount Mobile offers his 100 GB mobile data plan at € 9.99 per month instead of 20 €. Please note, this is a limited time offer valid until February 4.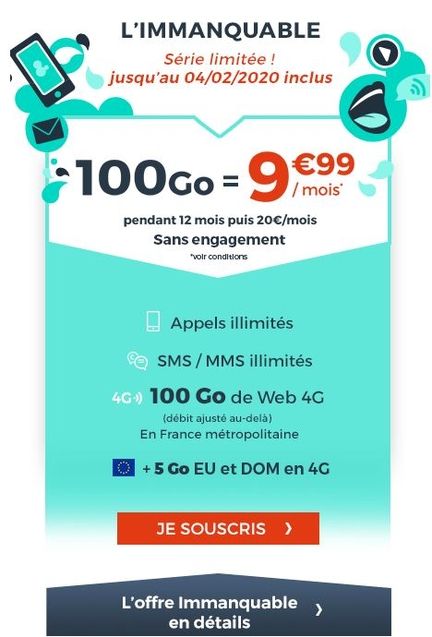 The package will be at € 9.99 for one year, then the monthly amount will drop to € 20 per month. The offer being a non-binding package, you can cancel at the end of this year and then switch to a more advantageous offer from the competition. The SIM card is charged € 10 when ordering.
As a reminder, Cdiscount Mobile is a service of the operator NRJ Mobile and uses the mobile networks of the three major operators, namely Bouygues Telecom, Orange and SFR depending on your geographic area.
In this package, we find:
Unlimited calls and SMS / MMS in mainland France and from the European Union
100 GB of 4G data in mainland France (speed adjusted beyond) + 5 GB of 4G + data in Europe and overseas departments (billed beyond)
And don't forget our previous good deals with 25 to 30% discount on Lenovo ThinkPad laptops or the special "Sell at Loss" operation at Cdiscount with up to -80% savings.
.