The agenda has been more than busy for Dr. José Raúl Montes, an oculoplastic surgeon, who, since the preventive closure of different economic sectors of the island, including, until a few weeks ago, the services offered in the country's medical offices , has been in a constant process of professional exchange that has produced a radical – and positive – change in the way of carrying out their practice.
For Dr. Montes, who is known for being an international lecturer and educational resource for various professional organizations and product and equipment companies for the practice of aesthetic medicine, the new reality has allowed him to practice his practice from another perspective, which makes him feel confident that even in the face of uncertainty, setting priorities and focusing on how to perform tasks in the face of a new and changing landscape is the model to follow.
It is a lesson that he learned very well after Hurricane Maria, where he simply understood that he was capable of doing anything to survive and that he was stronger than perhaps he thought.
"I remember that after that catastrophic and devastating event, the biggest lesson you learn is about yourself, who you are and how you react. I know I am very strong. That is what I learned ", asserts the also considered a KOL (Key Opinion Leader) widely recognized worldwide.
Today, in the face of a pandemic that does not discriminate against country, sex, age, or economic possessions, Dr. Montes is convinced that his experience can help others reinvent themselves and refocus, keeping calm and looking for solutions to what many call a "new reality".
New ways of exchange
Curiously, Dr. Montes is heard animated, but also grateful. He says that just two weeks ago he opened his office and that has established very rigorous security measures for both its staff and the patients who visit it.
But, all this is the result of a work carried out during the weeks in which the forced closure and confinement set new standards in the country and in the world. So he engaged in a titanic task that involved preparing his office and his team for the reopening, but once again assumed a leadership role by offering up to two weekly virtual conferences for colleagues from around the world. He has offered about twelve at the time and continues to count.
One of the most recent was as part of a series of virtual conferences offered by the Pan American Oculoplastic Society (SOPANOP), which brings together all professionals in this specialty in the Americas and Spain.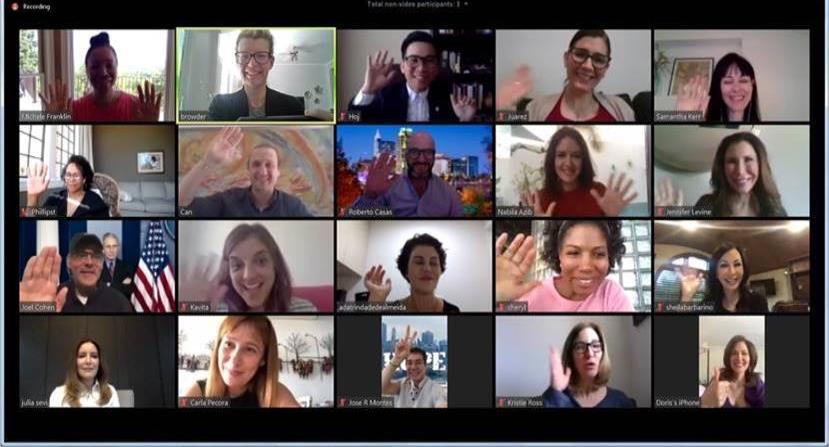 "I have been involved in the steering committee (of the organization) because they asked me to be a consultant, I gave one of the conferences, which is called SOPANOP #desde casa, which was broadcast on YouTube and had the live participation of more than 500 surgeons oculoplastics ", he highlights, to comment that it was a very exciting experience to see that doctors from all over the world connected for transmission.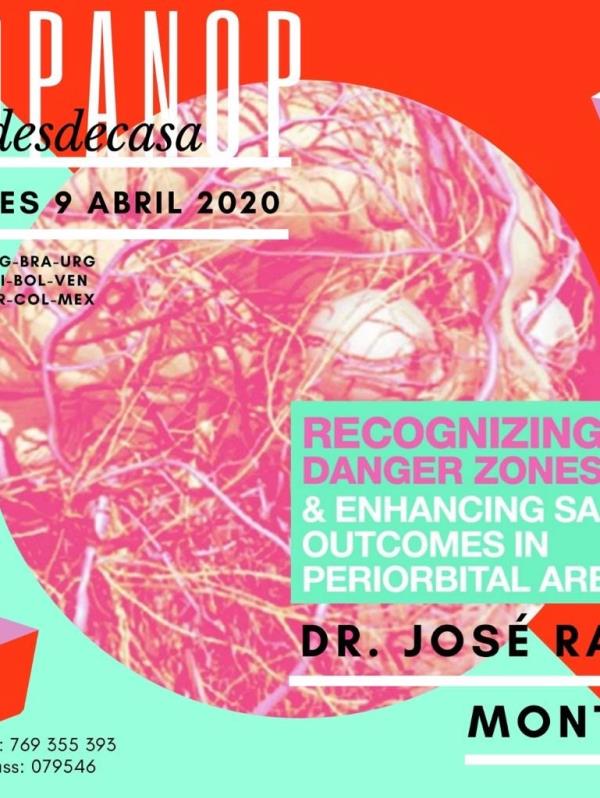 However, for Dr. Montes, The most moving thing has been to observe how the worldwide state of emergency by COVID-19 has humanized more and has exposed vulnerability to all health professionals..
"For me, the most important and most moving thing in the context of this situation is that people, despite being through a computer and a camera, have removed their masks and have been trying to row in some waters violent. Everyone is in a vulnerable state, acknowledging and accepting this opportunity to connect."Stresses the subspecialist.
He assures that the first lesson of this experience with virtual conferences is "to be in direct contact with people from all over the world and to realize that we are equal and we all have our strengths and weaknesses. That brought us together. " He adds that the second lesson is being able to recognize that, no matter where they are in the world, they all share similar challenges.
"To a lesser or greater degree we are more or less with the same situations, the same shortcomings, so you only have to look a little further to sometimes realize what you have", says the oculoplastic surgeon to highlight that, at the end of the sessions, they always end up giving thanks and solidarity with the work of their colleagues who are at the forefront of the battle in hospitals and emergency rooms.
On May 14, Dr. Montes also participated, along with a dermatologist from the United States and another from Canada, in the launch in the United States of Galderma's new lip product, Restylane® Kysse, in a virtual event called Kysse and Tell , which brought together more than 1,000 doctors.
"They never in life thought that the launch was going to be done online and it was done with great success", reveals, to comment that, although he has had approaches to preside over some of the associations to which he belongs, he prefers to collaborate actively in another way.
His next assignment will be on May 30, at a meeting of the Global Virtual Aesthetics Summit, where, as part of an international panel, he will discuss market trends.
Back home
The process to open your medical office was mediated by the preparation and constant study of all the security measures that had proven to be effective in other parts of the world., where opening processes are already taking place. In addition, in this period, his work staff accumulated more than 100 hours of continuing education as a preamble to new rules that he knew would be imposed.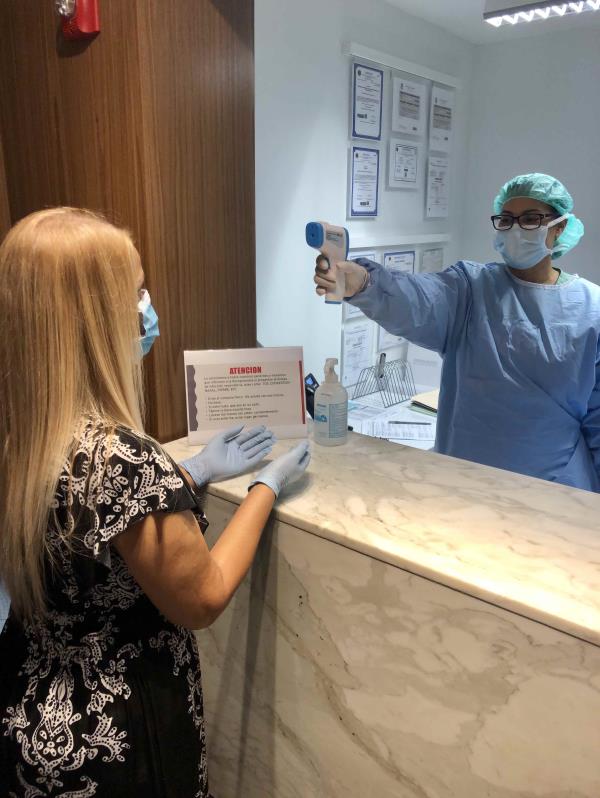 He highlights that being a world lecturer has allowed him to share impressions and good practices with his colleagues in France, Italy, Spain and other countries, with whom he remains very active in conversation forums.
It was in this way that, chatting with a colleague and a good friend, Dr. Gabriela Casabona, a native of Sao Paolo, Brazil, but who shared her consultation with her husband, a German plastic surgeon, in Marbella, Spain, that she invited him to participate in the writing of an article outlining those best practices to start offering medical services at the time of COVID-19.
The result of this meticulous collaborative work was the article entitled "Elective, Non-urgent Procedures and Aesthetic Surgery in the Wake ofSARS – COVID-19: Considerations Regarding Safety, Feasibility and Impact on Clinical Management", which was published online in the journal Aesthetic Plastic Surgery.
This article discusses in great detail security measures that can be taken anywhere in the world to restart medical practice and perform elective surgical procedures.
"This is a guide that everyone can adapt and temper to their particular situation. You have to know what your clientele is, what is the development of the pandemic, if you can have an idea, in your geographical location; and know how your work staff feels ", emphasizes Dr. Montes, highlighting that The most important thing at this time is that doctors have to understand that the practice of a medical office as it was before is not going to be the same., not only for the security measures that involve from pre-screening patients and taking their temperature upon arrival at the office, to the use of masks, among other elements. However, the biggest change that the oculoplastic surgeon sees is around appointments.
"This work has to start with the doctor giving the guidelines and that work has to be consistent from the person who handles appointments and the phone. Appointments must be confirmed by text or call and an appointment must be made prescreening to the patient, before giving the appointment. This is very important so that the patient knows what one requires, how he has to come prepared to the office and what he is going to find, "says Montes. He adds that, in the same way, the patient must commit to adhere to a schedule and follow the measures imposed for the safety of all.
Closer
For Dr. Montes, this process has been sobering and has allowed his practice to offer services more in tune with the reality of the country. For this, during the confinement he created a virtual store of the products he offers and also a protocol in keeping with the circumstances. He says that the practice of communicating personally and directly with his patients is one of his favorites, as it has proven to be very effective in terms of patient safety and adherence to treatments and appointments.So he is happy to take advantage of the benefits of telemedicine and his patients appreciate it.
"For me, the change is profound and I think it stays. Although I have always known it, I have realized that there is nothing in life that replaces human and personal contact in all the efforts you make, with your family, with your friends, with your employees and with your patients, and I, in that, I will not go back ", he concludes saying pleased.
.