Every year over 37 million French tax families must complete their tax returns. "Illicit", "too complicated", "incomprehensible" … This document, which was 24 pages and 1280 boxes to be completed in 2017, says a lot about the complexity of the French tax system, which also gives tax professionals. A case study at the time of "yellow jackets", many denounce this millefeuille of regulations.
How many tax loopholes, tax credits and other possible cases are hidden in this document? In an attempt to answer this question, we have removed the precious sheets from the data available on impots.gouv.fr for the 2016 income statement (the last for which detailed data are available). A dive into the meanders of French taxation full of lessons.
On average, € 23,000 of activity income per person were reported
The first lessons of this exercise concern the amount of income declared by taxpayers. In fact, the data from the impots.gouv.fr website allows you to know what types of income and what global amounts have been reported by French tax families.
At the summit of the sums declared, we therefore find almost 644 billion euros of revenue of activities declared for the 2016 by 28 million workers concerned (counting only the "registrants 1 and 2"), which excludes the employees of a single person or a couple). This corresponds, on average, to an income of € 23,000 per person in the year.
Second source of income for the French: pensions, pensions and annuities, which reach a total of 293 billion euros for the 16 million people concerned. An average of 18,000 euros.
Then come substitute income (unemployment and early retirement benefits, indemnity of local officials), which bring a total of 35 billion euro to 5.8 million people, and revenue from land (from 31 to 2.6 million euro) . families), facing a myriad of other sources of income of all kinds.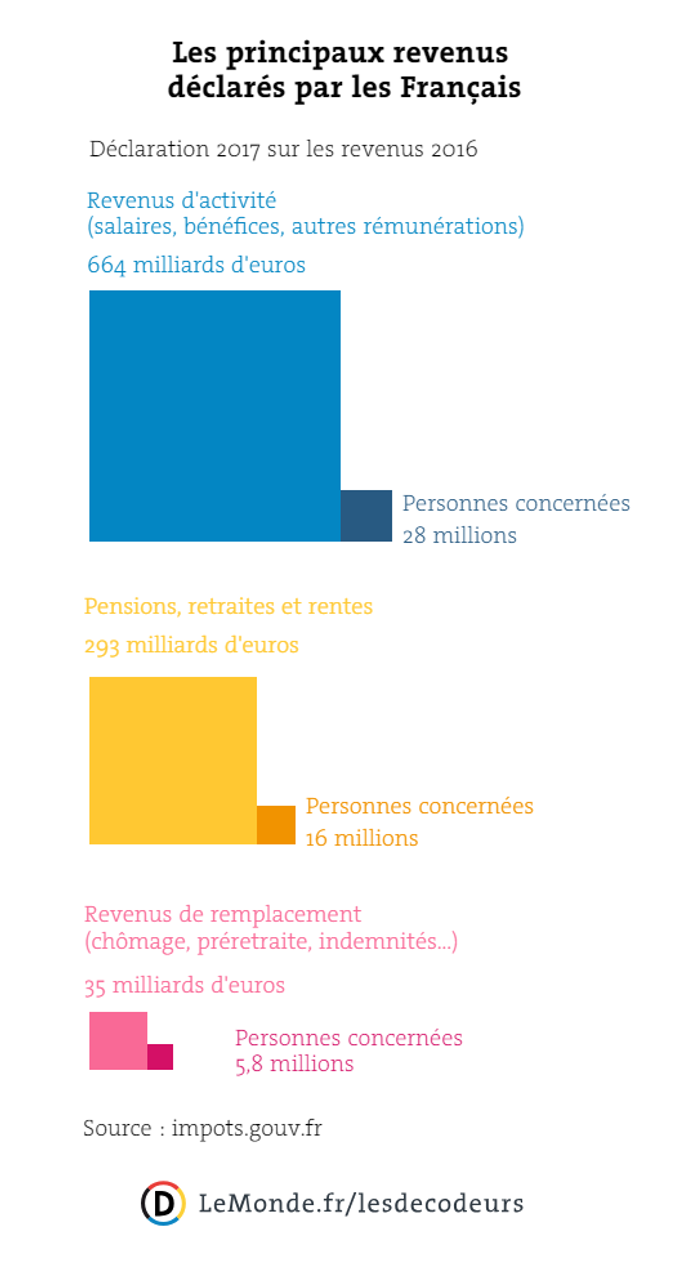 Although the wealth tax (which was still in force in 2017, before being transformed into a "property tax" in 2018) is the subject of a separate declaration, the total amount of wealth declared. It also appears on the tax sheets. It has reached almost 494 billion euros gross for the 251 052 families in question, or almost two million euros on average for those families due to ISF.
The most common "tax loopholes" concern families and donations to associations
While the term "fiscal niche" has a pejorative connotation in the collective imagination, initially it includes all the situations that allow to reduce the amount of taxes paid. As such, fairly ordinary situations such as staying in pairs (especially when income varies greatly within the family), having children or even being handicapped, help reduce taxes and can be considered "tax loopholes" in sense of the side.
Flipping through the list of the boxes most often filled in by French taxpayers in 2017, we were able to analyze these "niches". Here are the ten most common, that is, those that concern the most taxed families:
Declare at least one child or a disabled child (24% of tax families). These give rights to half-shares or additional fees, which significantly reduce the income tax, although the advantage is limited.

Income from shares and quotas of companies entitled to an indemnity (23%). Income from these assets is favored in the calculation of income taxes, since a party is not subject to taxation.

Actual costs (16%). It is possible for taxpayers who believe they have significant professional expenses (travel, food …) to declare them, justifying them. These expenses are then deducted from taxable income.

Donations to associations of general interest (11%). You are entitled to a 66% tax reduction within the limit of 20% of taxable income.

The dependent children continue their education (11%). You can deduct from your taxes an amount ranging from 61 euros per child in college to 183 euros per child in higher education.

Widows and widowers (11%). After the death of the spouse, the deceased can benefit from a fee of half additional tax, which reduces the amount of his income tax (this benefit is, however, limited to 950 euros).

The absence of television (9%). By declaring that there is no TV, you can exempt from the contribution to public broadcasting, a fee of 139 euros levied with the house tax.

Home care costs for retired people (6%). Half of the amounts paid to employees of personal services can be deducted up to a cost of 12,000 euros (and up to 20,000 in special cases).

Childcare expenses for children under 6 (6%). Half of the sums paid to nurseries, nurseries or nurseries are deducted from taxes up to a maximum of 2,300 euros per child.

Donations to people in difficulty (5%). You can deduct 75% of the amounts paid to associations that provide food, accommodation or free medical assistance (eat heart, red cross, rescuers …) within the limit of 531 euros, then 66% for higher amounts.
These examples show that the tax benefits for most households are family support and, secondly, those relating to associations. But other categories of tax loopholes could cost more to the state, even if they involve fewer people.
This is, for example, the case of fiscal niches in the real estate sector. The laws of Duflot and Pinel, which aim to encourage rental investments, have allowed just over 103,000 families to reduce their taxes by 351 million euros in 2017, according to state accounts, or about 3,400 per beneficiary and per year on average (for a maximum of 12 years).
Almost six out of ten cases involve fewer than 1,000 people
With a main tax return (2042) and six complementary declarations (2042 pro, 2042C, 2042IOM …), there is a total of no less than 1 280 boxes that the tax payer is potentially required to provide.
This fiscal maze actually involves very few taxfilers: only 40 fields have been filled by over one million families, out of 37 million declarations. There are mainly the main sources of income of the French (salaries, pensions and annuities), as well as elements relating to the composition of families (family situation, number of children …).
In total, only 172 fields (13% of the total) have been filled at least 37,000 times, ie more than one family per thousand. This shows that most of the boxes on the tax card only affect a & rsquo; minority of tax filers. Therefore, 479 fields, more than one third, affect less than 100 registrants. It contains both specific tax provisions for industrial and commercial profits (BIC) and non-commercial (BNC), old real estate investment schemes such as the remains of the Scellier law, provisions of the Pinel Act in the DOM / TOM …
Part of this complexity can be explained by some specific provisions, on top of those related to foreign investments. A specific declaration, Form 2042 IOM, is dedicated to this, giving rise to specific tax cuts in the renewable energy sectors, the renovation of hotels and submarine cables. This document contains only 215 boxes, of which 127 were completed by less than ten people.
A bag of special rules
The fact that many of the boxes are little or unused does not mean that none of them has any interest. But this observation shows that the calculation of income tax is based on a series of extraordinary special rules that apply to various situations such as restaurateur masters, children and journalists.
The scaffolding is all the more complex because all these tax loopholes are not based on the same types of calculations: some grant a reduction in the fixed tax, others correspond to only partially taxed income, others reduce the base taxable income, etc. What fuels a form of misunderstanding of the tax system, which can in turn feed the famous "fed up".
React or view all comments