Last night, Vive le Vélo looked ahead to next week's World Cycling Championships in Imola. And with economist Geert Noels, the business model of cycling was also examined. "In part, the Tour is also a curse for cycling."
"If the race is normal, where are they going to release Van Aert?"

On Monday, national coach Rik Verbrugghe announced the Belgian World Cup selection. The question could not be left out in Vive le Vélo: is there a Belgian world champion coming?
Eddy Planckaert already believes in it. "Van Aert himself said after the ride that he is going to the World Cup to win. We have a very good team. If they dare to start with one leader and everyone will work for him, then I think that with Wout we have a lot of chance of becoming world champion. "
"Of course he must be able to continue the line. But if the race is normal, where will they release him? Uphill: who? In a sprint to the finish: who? They just have to start with one leader, because Van Aert is a leader. man in top condition who can handle anything. "
"The Tour is also a curse for cycling"

No positive corona tests in the Tour and so there is a greater chance that the peloton will reach Paris. The fact that the Tour could take place at all this year was of vital importance for many teams. But according to Geert Noels, it also shows the weakness of the economic model of cycling.
"If you add up the total budget of all WorldTour teams, then you have about 450 million euros. That is the same as the budget of all first-class teams in Belgium together. But the scope of cycling is of course much wider, worldwide. so not something. "
The Tour also plays an ambivalent role, according to Noels. "The Tour is in a sense the rescue, but at the same time it is also a millstone around cycling. They determine everything, innovate little, give little to others and because they have the largest budget, they also consume a lot. the Tour is therefore also a curse. "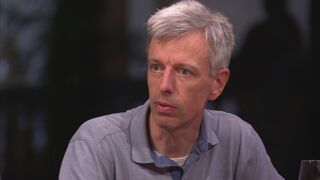 "Shimano could play the role of Nike or Adidas"

As a cycling sponsor, a company can lend its name to a team. You would think ideal publicity, but many global companies do not take the step to cycling.
"The largest company in the world that has anything to do with cycling is Shimano," says Noels. "They could carry the entire cycling themselves. They are monopolists in many things that have to do with cycling."
"Shimano could play the role of Nike and Adidas in cycling, and yet they don't. Maybe as a Japanese company they don't see the need. Maybe they don't realize that professional cycling is in such a bad shape. It's almost incomprehensible. "
"Other really big companies also dropped out a bit in the late nineties. Cycling has never been able to attract those big sponsors permanently and then of course you also have the TV money that should actually be distributed among the teams."
"Another peculiar thing is that in football there are few surprises when you look at the budgets of the first division teams and their place in the rankings. This is not the case in cycling. most UCI points Just because you have riders who demand a lot of budget does not mean that you can take all the courses wins. "
Cycling has never been able to permanently attract the big sponsors.
"You need personalities who can tell a story"

But what is the solution for cycling? "You need personalities who can tell a story for a whole year," says Noels.
"Peter Sagan is someone who can talk about something for a whole year. Wout van Aert, Remco Evenepoel and Mathieu van der Poel also have that potential."