Philippe Keyaerts, the creator of the Small World board game, is working with Blizzard on an official World of Warcraft board game. It should be released sometime in the summer and is based on the concept of the Small World board game.
Small World of Warcraft is based on the World of Warcraft world of Azeroth and is suitable for two to five players who can choose from sixteen different races. In addition to the Orcs, this includes the Portal Mage Pandarens and the Herbalist Goblins from the Warcraft universe. Just like in the original Small World, you can have your breed specialize in one of twenty special forces. The world consists of a number of islands that must be fought for. Players must take ground, get artifacts and try to defeat the enemy races.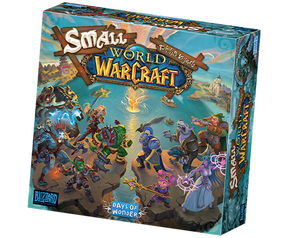 Small World was invented by the Belgian Philippe Keyaerts. He previously came up with the board game Vinci, on which the Small World released in 2009 and published by Days of Wonder is partly based. As the name of the board game suggests, Small World focuses on a slightly too small world where fourteen different races like trolls, ghosts, elves and wizards want to live. The game consists of a double-sided board with chips, coins and cards. In the end it will not be possible to conquer the world with a race, so if the maximum is taken from this breed, it will fall into disrepair and a new breed will have to be chosen. This element is also included in Small World of Warcraft. This also applies to the Small World Underground system of artifacts and legendary locations.