Yvette has made herself beautiful for the photo, with a couple of Creoles. However, the fatigue is drawn on his face and his monotonous voice betrays a weariness. That of a life shaped by a constantly upset migratory project. The 46 year-old from Cameroon is one of the 25,000 West African migrants arrested in Algeria in 2018 and deported without warning to neighboring Niger. Last year, the massive rejection of sub-Saharan migrants has accelerated, and every week the Niger hosts hundreds of deportees of deportees.
In Agadez, the first major Nigerian city on the southern route, the International Organization for Migration (IOM) provides treatment to non-Nigerian returnees if they accept a voluntary return to their country of origin. In early December, Yvette is preparing to return to Cameroon after five years of living in Algeria. There, he says, the wave of arrests of migrants has created a deleterious climate: "People are holed up in homes. We are afraid. When we go out, we are ready to run. "
Article reserved for our subscribers

Read also
In Niger, the repressed Algerians tell the story of the "hunt for the black man"
"My eldest son was one of the first to be repressed in 2016she continues. I sent him money to Niger to return to Algeria. " To preserve her two daughters aged 8 and 22, Yvette decided to separate from them: "I had them with me last year in Algeria, but because of the raids I did not sleep anymore, I preferred to send them to Morocco and I think I did not make a mistake, I paid 570 euros and I had to negotiate with a guide to do it to the rhythm of children. There is a lot of walking and you have to go around the mountain road. "
Yvette learned that her daughters had been treated in Rabat by the Catholic NGO Caritas and the United Nations High Commissioner for Refugees (UNHCR). In Algeria, she is confident that her two children, aged 29 and 24, will survive. "The first masonry work I would like you to take your resident card"she says.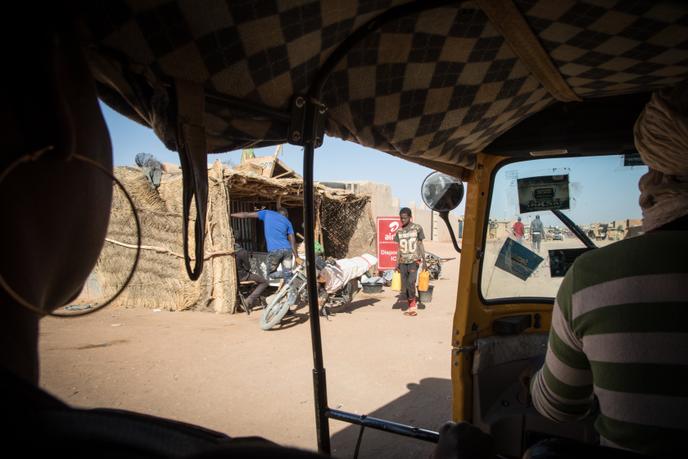 The police refuse to hospitalize her
In Algiers, Yvette ran a small donut shop on Saturday near a stadium. "Where blacks come to play football". Like many other migrants in his situation, he lived in more or less precarious places of passage, moving at the mercy of the evictions or desires of the donors. "When the houses are spoiled, the owner asks us to leave, or sometimes blackmail to increase the rent."
Yvette lived in six different districts of Algiers. Once, he also lived in Annaba, a coastal town near the Tunisian border. Recently, he rented a house with two rooms in the capital, for 45,000 dinars a month (about 330 euros). Sometimes it housed " brothers " passing and in need. He does not know what will happen to the place in his absence, nor all the things he had to abandon.
On the day she was arrested, Yvette went to the Sunday meeting of the Cameroonese who organize funds for food solidarity: "Our association meets every Sunday to organize our small share, our tables." On the road, with another Cameroonian, he stops in a market. As they leave, the two women take a taxi. "That's where the police surrounded us, he refers. They took us to a social center at Dely Ibrahim. " Many migrants arrested in Algiers testify that they have been reunited in this structure that houses people on the street, waiting to be expelled from the country.
"I started feeling very bad, says Yvette. I am diabetic and my blood pressure has risen to 18 years. The nurse called the doctor because my blood pressure had risen to 22. But the police refused to be admitted to hospital because I had to travel. I was put on a bus with Nigerian women and children, without telling us where we were going. " The Cameroonian describes a convoy of a dozen buses escorted by soldiers over 1,800 km to Tamanrasset, in the extreme south of the country.
A cocoa plantation project
The staff of the Red Crescent is present in the convoy. In Tamanrasset, Yvette is hospitalized in a state of hyperglycemia. This time, "The doctor vetoed and opposed the police who wanted me to leave". Yvette thinks back to this hospital "God seems to have forgotten". He shared a room there with others repressed, installed on iron beds without mattresses. There was a "Crazy who has urinated on the floor" and another "Flayed alive" after trying to escape from the convoy by jumping from a running bus.
Read also
In Niger, 28,000 migrants expelled from Algeria in 2014
When he returned to the center of Tamanrasset two days later, the few things he had managed to keep disappeared. To continue the road to the Niger, which sinks in the desert for several hundred kilometers, the repressed are grouped in cattle trucks. Most non-Nigerians are then abandoned at the border, in the middle of the Sahara. But Yvette, is integrated into a convoy of 200 Nigerians and can be transported to Agadez. On the spot, IOM proposes to register for voluntary return. "I said yes, given my health, I did not want to complicate things."
In Cameroon, Yvette still has a 19-year-old daughter. He also has a cocoa plantation project, which he has been trying to develop for two years; even if he has not yet renounced Algeria. "Here, I only have one for a while" He said. You know that the retreat trip through the desert has become four times more expensive than in 2013, following the strengthening of the fight against illegal immigration. He also knows the risks of aggression that threaten women. But she says "I would still like to do something for my children before going home".
Summary of our series "Migrants: terminus of Niger"
React or view all comments